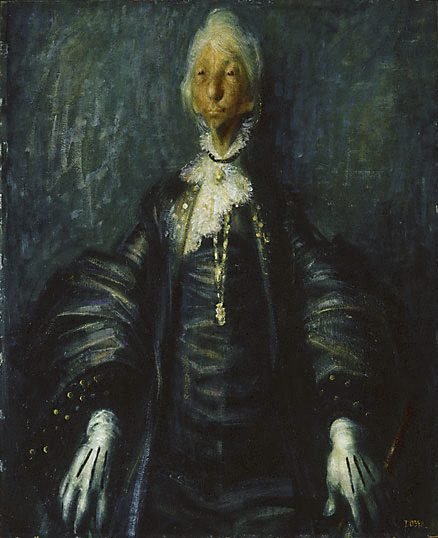 (Australia, England 24 Sep 1899 – 13 May 1970)
Dame Mary Gilmore
Location

Not on display

Further information

"I want to say how proud I am that you want to make a sketch of me. You are the only painter we have, perhaps the only one we ever had, whose work has its ghosts behind it ..."
- Dame Mary Gilmore 1943

"The painting is far more important than the sitter. This painting will still be carrying my identity when my own work is forgotten."
- Dame Mary Gilmore 1957

Dame Mary Gilmore (1865-1962) was a distinguished humanitarian, poet, left-wing political activist and social reformer, who became part of a network of writers and artists, including Dobell, who lived in Kings Cross, Sydney following the war. This portrait, typically developed through many sketches and studies, is perhaps the most profound of his many commissioned portraits during the last years of his life.

Australian Art Department, Art Gallery of New South Wales, 2000

This work was a finalist in the 1957 Archibald Prize and was acquired by the Gallery in 1960.

Year

1957

Media

Medium

oil on hardboard

Dimensions

90.2 x 73.7 cm board; 105.1 x 88.6 x 6.5 cm frame

Signature & date

Signed l.r. corner, orange oil "DOBELL". Not dated.

Credit

Gift of Dame Mary Gilmore 1960

Accession number

OA28.1960

Copyright

© Courtesy Sir William Dobell Art Foundation.