Small trades, shops and shop displays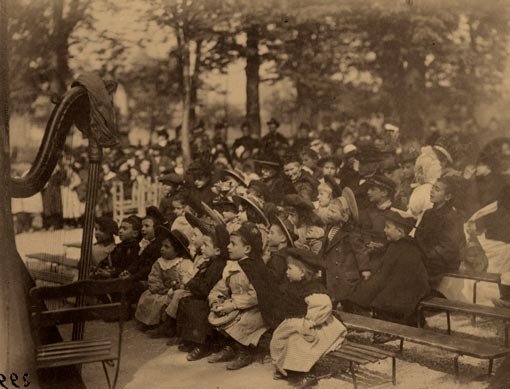 It is generally believed that Atget photographed a disappearing Paris, but it would be more accurate to say that he photographed the parts of the city not affected by the demolition and modernisation that the civic planner Baron Haussmann (1809–91) embarked upon in the 1850s. Huge areas of Paris were demolished, both then and in subsequent decades, to make way for the grand boulevards, green spaces, railway stations, the metro and so on. Atget would notate his photographs and albums if he knew a place was to be demolished and this information is reflected in the labels in this exhibition and the captions for the images in this education kit.
After lengthy stays in the city from 1878, Atget moved permanently to Paris in 1890 where he experienced the tail end of the demolitions. However, the ongoing pressure of the process of modernisation and 'cleansing' must have seemed relentless. Certainly the street vendors were disappearing and people as a central subject also disappeared from Atget's photographs from 1902, with the exception of the rag pickers on the 'zone' (1910–14) and prostitutes (early 1920s). The local and intimate aspects of the city we see in Atget's photographs – whether shop signs, building façades or staircases – often still exist in Paris today.