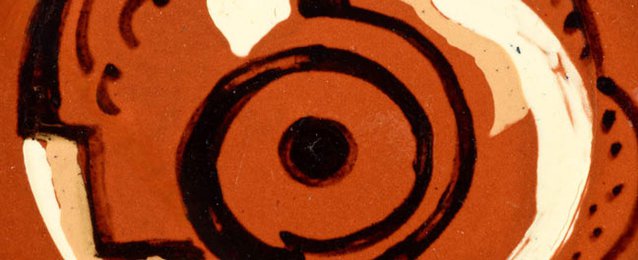 Anne Dangar
ceramics from Moly-Sabata
11 Aug – 21 Oct 2018
Location: 20th & 21st c Australian art
Free admission
A display of the Gallery's major new acquisitions from this much-admired Australian modernist painter and potter.
Anne Dangar (1885–1951) is best known for her innovative pottery designs that fuse traditional techniques with modernist motifs. An early exponent of cubism in Australia, she was closely involved with local modernists Dorrit Black, Rah Fizelle and Grace Crowley. She moved permanently to France in 1930, becoming the central figure in an artists commune, Moly-Sabata, established by French cubist painter Albert Gleizes.
The Gallery has acquired a significant group of Dangar's ceramics which were in the private collection of Gleizes and Juliette Roche, with the support of the Fondation Albert Gleizes and the Mollie Douglas bequest fund. Many of these works recently featured in an Anne Dangar survey exhibition in France – at the Musée de Valence – where she is highly regarded. These new acquisitions will be exhibited for the first time in Australia, alongside other Dangar works from the Gallery's holdings.
Image: Anne Dangar Plate c1934 (detail), Art Gallery of New South Wales