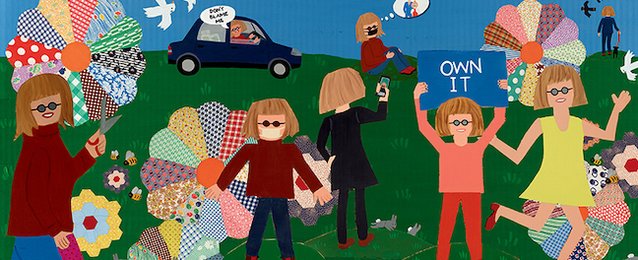 Archie Plus
26 Sep 2020 – 10 Jan 2021
Location: Grand Courts, Entrance court, Vestibule, 20th & 21st c Australian art
Free admission
Celebrating people, portraiture and the power of community after a year of challenge and change
This summer the Art Gallery of NSW celebrates people, portraiture and the power of community with Archie Plus, a free program of art, music, performance and dance that marks a year of challenge and change and pays tribute to the acts of care, support and human resilience that have lifted, protected and inspired during 2020.
Enlarging on the portrait focus of the Archibald Prize, Archie Plus welcomes viewers to reflect and re-connect through portraits of many kinds – from exuberant ceramic sculptures by Ramesh Mario Nithiyendran, to a spectacular mural created by Mathew Calandra, Emily Crockford, Annette Galstaun, Lauren Kerjan, Jaycee Kim, Catherine McGuiness and Meagan Pelham of Studio A, to newly commissioned portraits in dance, music and spoken word by artists including L-FRESH The LION and Nardean, to a night-time lightwork by Michaela Gleave.
Together these offerings will create a vibrant trail of alternative and collective portraits in many mediums, flowing across the entire ground floor of the Gallery and the downstairs corridor leading into the Archibald, Wynne and Sulman Prizes exhibition. The array of portraits that make up Archie Plus will be revealed over a three-month period, with some of the artists and performers making work onsite at the Gallery, allowing visitors to follow their creative process.
Emphasising the spirit, humour, energy and heart that make art necessary in difficult times, Archie Plus will offer a portrait of the local artistic community in action, a portrait of a year, and a portrait of a city whose strength lies in its diversity.
Find details of the artist projects, exhibitions and performances online here and follow the Archie Plus journey as it evolves on Together In Art.
Image: Adrienne Doig What do we want? 2020 (detail)