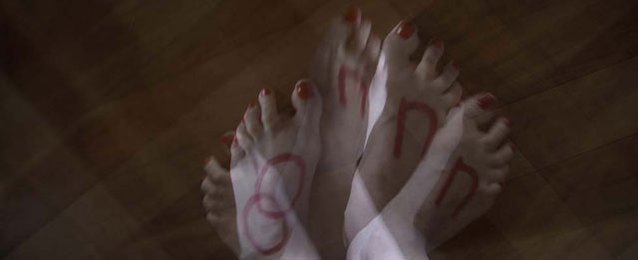 Eugenia Raskopoulos
footnotes
23 Feb – 13 May 2012
Location: Contemporary project space
Free admission
Eugenia Raskopoulos' practice is concerned with language, the body and processes of translation.
The artist has in the past used steam, salt, oil and chalk as a means to smear, score and drip words into temporary formations that emphasise the fluidity of language. In her new video installation footnotes, she turns to materials that relate more directly to ideas of sexuality and gender – from lipstick to liquids of more ambiguous origins.
Raskopoulos performs a series of actions that accumulate letters into words, written in English and Greek, using her own limbs as a writing instrument or surface.
Image: Eugenia Raskopoulos footnotes 2011 (detail from still), 3-channel digital video, sound, installation, 4.18 min, courtesy the artist and William Wright // Artists Projects