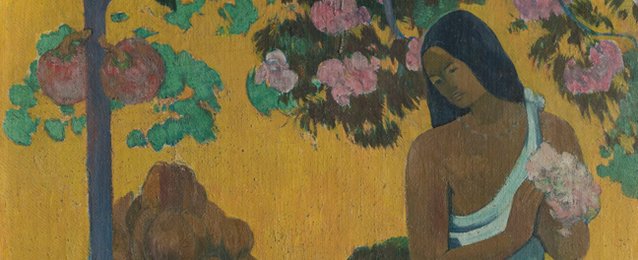 Masters of modern art from the Hermitage
13 Oct 2018 – 3 Mar 2019
Location: Major exhibition gallery
Charges apply
This exhibition presents 65 paintings from the magnificent collections of the State Hermitage Museum in St Petersburg, Russia.
Drawn from one of the finest repositories of European painting of the early 20th century, it features many of the towering figures of modern art, including world-renowned French painters Cézanne, Matisse, Picasso and Gauguin and their equally celebrated Russian contemporaries such as Malevich and Kandinsky.
Masters of modern art from the Hermitage will travel exclusively to the Art Gallery of NSW as part of the Sydney International Art Series, bringing the world's most outstanding exhibitions to Australia, exclusively to Sydney.
Charges apply
Ticket available closer to exhibition opening
Image: Paul Gauguin Month of Mary 1899 (detail), State Hermitage Museum, St Petersburg. Photos © The State Hermitage Museum, St Petersburg 2018