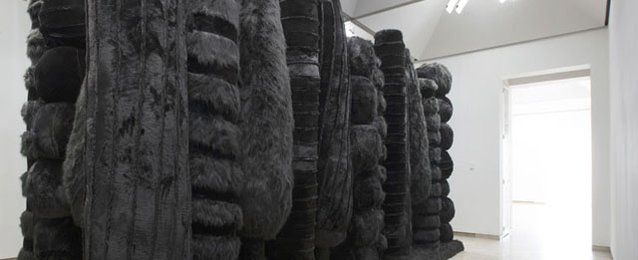 Kathy Temin
My Monument: Black Garden
1 Sep – 20 Nov 2011
Location: Contemporary project space
Free admission
Australian artist Kathy Temin creates her most ambitious work to date for the AGNSW Contemporary Projects series.
Enormous in scale, My Monument: Black Garden 2010–11 has been made specifically in relation to the architecture of the Gallery's Contemporary Project Space and draws on influences ranging from Temin's family's cultural displacement, to popular culture and art history. The sculpture is made up of tree-like forms covered in fake fur – cushiony pillars that act as both an impenetrable wall and a simulated landscape.
Kathy Temin My Monument: Black Garden 2010–11 (detail), synthetic fur, synthetic filling, wood and steel, 365 × 800 × 300 cm. Image courtesy the artist & Roslyn Oxley9 Gallery, Sydney.