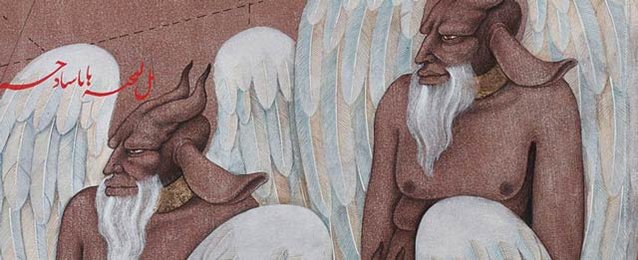 Khadim Ali
The haunted lotus
6 Mar – 1 Jun 2014
Location: Contemporary project space
Free admission
The AGNSW Contemporary Project considers family, the Hazara people and culture, and the emergence of a lawless society in contemporary Afghanistan.
In this exhibition Khadim Ali wrestles with the violence he experienced in Afghanistan through images that interpret a mythological past – the 10th-century Persian epic poem the Shahnameh or 'Book of kings'.
Influenced by Persian miniatures, his images on paintings and rugs depict demons from the Shahnameh in a complex act of identification with demonised – or dehumanised – people.
Made in collaboration with weavers in Afghanistan, this is the first time Ali has used the medium of rug-making.
Image: Khadim Ali The haunted lotus 2013 (detail), courtesy the artist and Milani Gallery, Brisbane © the artist