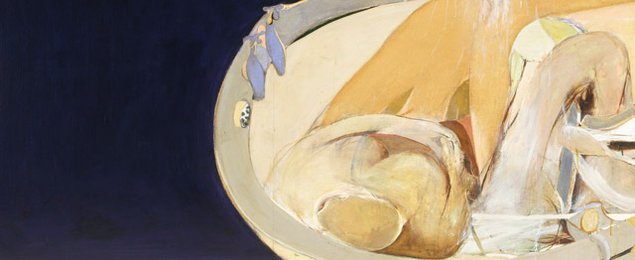 The London years 1960–67
13 Jul – 23 Sep 2012
13 Oct 2012 – 7 Apr 2013
13 Oct – 16 Dec 2012
4 Jan – 7 Apr 2013
4 Jan – 28 Mar 2013
30 Mar – 7 Apr 2013
Fri–Sun only
10am–4pm
Location: Brett Whiteley Studio, Surry Hills
Free admission
This exhibition explores Brett Whiteley's art and life from 1960 to 1967 when he was largely based in London.
It includes key abstract works from this period as well as paintings from his Bathroom, Christie and London Zoo series, and the Endlessnessism monoprints of conversations with the artist Francis Bacon.
This remarkable body of work displays all the dexterity, imagination and ambition of a prodigious talent still in his twenties.
Fri–Sun only
10am–4pm
Free admission
Brett Whiteley Woman in bath 1963, reworked 1964, purchased with funds provided by the Art Gallery Society of NSW 2000, Art Gallery of NSW © Wendy Whiteley