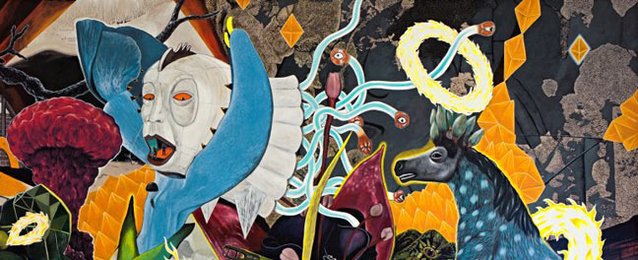 Passion and procession
art of the Philippines
24 Jun 2017 – 7 Jan 2018
Location: Upper Asian gallery
Free admission
Come celebrate the diverse and vibrant art of the Philippines.
Passion and procession brings together painting, sculpture, video and installation works from ten contemporary Filipino artists, revealing their very personal responses to faith, history, politics and life in the Philippines.
The artists include Santiago Bose, Marina Cruz, Alfredo Esquillo Jr, Nona Garcia, Renato Habulan, Geraldine Javier, Mark Justiniani, Alwin Reamillo, Norberto Roldan and Rodel Tapaya.
Accompanying their works is a selection of textiles and sculptural objects from the Philippines given to the Gallery in 2005 by Dr John Yu and Dr George Soutter.
This exhibition is part of the Bayanihan Philippine Art Project, a collaboration between the Art Gallery of NSW, Blacktown Arts Centre, Mosman Art Gallery, Peacock Gallery (Auburn) and Campbelltown Arts Centre in association with Museums & Galleries of NSW, to celebrate the art and culture of the Philippines through a series of exhibitions, performances, creative writing and community programs across multiple venues.