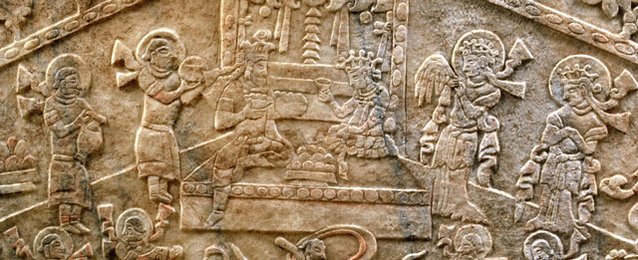 A Silk Road saga
the sarcophagus of Yu Hong
22 Aug – 10 Nov 2013
Location: Upper Asian gallery
Free admission
In 1999 a white marble sarcophagus, unlike any previous discovery, was excavated in Taiyuan, the capital of China's Shanxi province. It belonged to a Turkic-speaking central Asian man, Yu Hong, and his wife, who had been interred in 592 and 598 CE respectively.
This magnificent object in many ways exemplifies life along the famous Silk Roads, with the multiethnic mix of traders, pilgrims, monks and envoys. From afar, it looks like a model of a Chinese building, but closer inspection reveals detailed carved or painted scenes of hunting, entertaining and religious worship totally foreign to Chinese traditions.
The exquisite panels of the sarcophagus are the focus of this exhibition, which also includes 16 other sculptures, figurines and ceramics from the tomb or from burials of the same period and province. Never exhibited in China, this display at the Gallery is only the third time the sarcophagus has been shown internationally.
Image: Panel 5 of Yu Hong's sarcophagus (detail), Sui dynasty, 581–618, Shanxi Museum