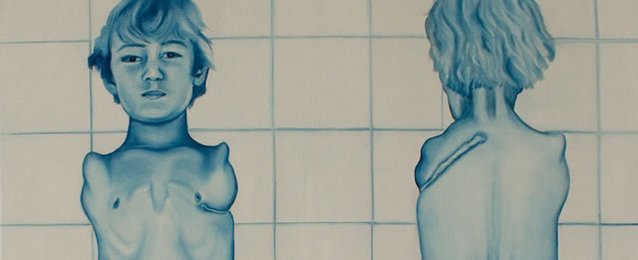 Simone Mangos
DAMAGED – thalidomide victims in medical documents
2 Jun – 5 Aug 2012
Location: Contemporary project space
Free admission
This exhibition makes specific reference to the tragedy surrounding the pharmaceutical drug thalidomide. The monumental works made using traditional techniques of oil painting are based on medical photographs and documents. The images, mostly from the 1960s and '70s, have been assembled from archives, medical books, period journals and, in some cases, directly from survivors.
'In the history of painting, deformed persons are typically represented as monsters, criminals and objects of contempt. Medical photography, at least up until the late 1980s, has mostly not been any different,' observes Simone Mangos. 'It is the individual victim who has to strip, have their body prodded, probed, stared at, photographed, discussed and decided upon as if they were not even present.'
Mangos's paintings attempt to accurately reproduce the content and photographic qualities of these images, drawing attention to their subjugating, even cruel attitudes towards the subject.
Image: Simone Mangos Figure 2 2012 (detail), oil on canvas, 150 × 100 cm. Courtesy the artist © Simone Mangos and VB Bild Kunst r.V.