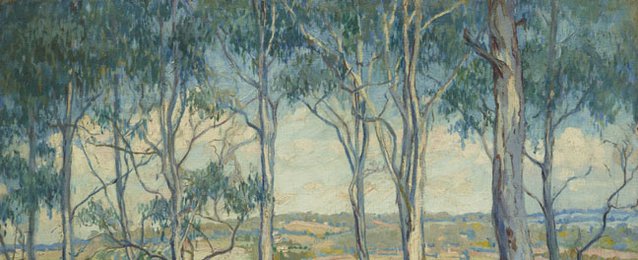 Fieldwork surveys treasures from the Gallery's collection depicting landscapes west of Sydney between the late 19th to the mid 20th centuries.
With a focus on plein air painting at artist camps and on excursions organised to areas such as the Hawkesbury River, Blue Mountains and Sydney's western suburbs, this exhibition reveals how these bucolic images fed into the development of national narratives at the turn of the century, and how this legacy both vexed and was embraced by modern landscape artists.
Fieldwork includes significant and seldom-seen paintings and works on paper from the Gallery's collection by prominent artists including Hilda Rix Nicholas, Julian Ashton, Elioth Gruner, JJ Hilder, Sydney Long and Charles Meere. A highlight is the inclusion of Gruner's painting Spring frost 1919, an iconic and much-loved painting that is seldom taken off display.
This exhibition will tour to venues in Western Sydney and regional NSW.
Image: Hilda Rix Nicholas Through the gum trees, Toongabbie c1920 (detail), Art Gallery of New South Wales © Estate of Hilda Rix Nicholas