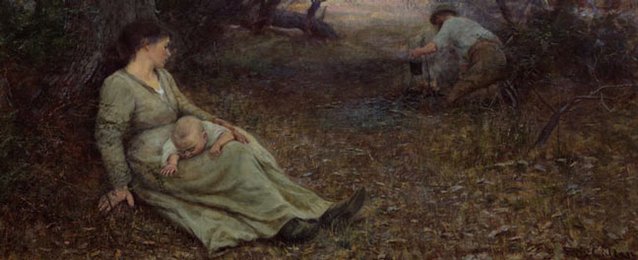 Australian galleries
Location: 19th c Australian art, 20th & 21st c Australian art
Free admission
Discover some of the finest Australian art anywhere.
Many of our most well known and loved works from the Art Gallery of NSW collection are on display in the Australian galleries.
The 20th-century gallery presents exceptional sculptures, photographs and works on paper as well as paintings. Alongside iconic works are recent major acquisitions of works by Russell Drysdale, Dorrit Black, Sidney Nolan, Sydney Ball and Frank Hinder as well as works by the likes of Ralph Balson, Arthur Boyd, John Brack, Grace Crowley, William Dobell, Ian Fairweather, Nora Heysen, Jeffrey Smart, Roland Wakelin, Fred Williams and Brett Whiteley. A group of Pukumani grave posts – foundational to our Aboriginal art collection – are exhibited with bark paintings by artists including Munggurrawuy Yunupingu and Mawalan Marika.
Nearby, the Grand Courts are home to our superb collection of 19th-century paintings and sculpture by artists such as John Glover, WC Piguenit, Tom Roberts, Arthur Streeton, Frederick McCubbin, Charles Conder and Bertram Mackennal.