AGNSW launches Australian app for iPad
The app enables people to get up close to over 40 Australian iconic works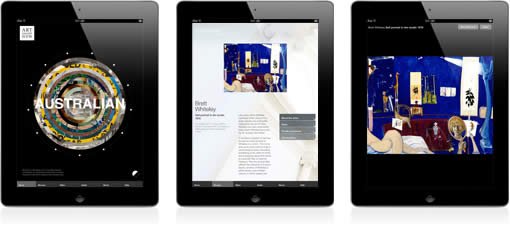 Our new Australian app will allow people to engage and interact with over 40 of the most popular works in the Gallery's extensive Australian collection. Users will be able to see, in extraordinary detail, works from some of Australia's most revered artists such as Nolan, Whiteley, Gruner, Streeton, Roberts, Boyd, Conder and Phillips Fox.
Michael Brand, Director, Art Gallery of New South Wales
2 October 2012 – The Art Gallery of New South Wales today announced that its Australian app for iPad is now available on the App Store. The app focuses on Australian art in the Gallery's collection, giving users anytime, anywhere access to over 40 of our most important artists including Margaret Olley, Rupert Bunny, Margaret Preston, Janet Laurence, Jeffrey Smart, Uta Uta Tjangala and John Olsen.
The launch of this app is another step toward making the Gallery's collection more accessible. Even those who can't easily visit the Gallery will be able to enjoy a rich viewing experience, exploring and learning about their favourite works and artists using their iPad.
Produced and designed by the Gallery in association with local digital agency The Nest, the Australian app unlocks new ways for audiences to engage with artworks. The app allows users to zoom into images to see small details, discover stories about the artists and the works of art, go behind the scenes with videos and listen to interviews with leading artists and Gallery curators. It is designed to complement the Gallery's Contemporary app, released last year.
The Australian app is available for free from the App Store on iPad or at iTunes