Art of parts: collage and assemblage from the collection
Exploring the extraordinary potential of collage for invention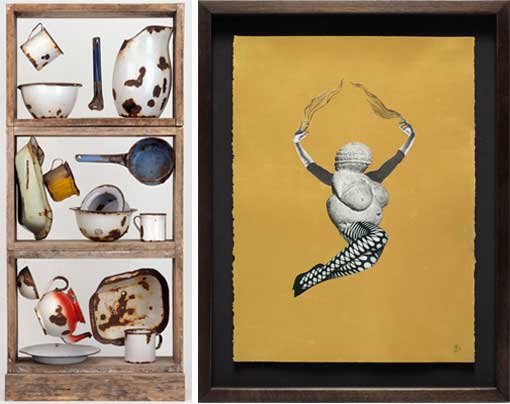 The Art Gallery of New South Wales is delighted to present Art of parts: collage and assemblage from the collection an exhibition that explores the extraordinary potential of collage for invention.
Art of parts: collage and assemblage from the collection considers the diverse motives that impel Australian artists to use this approach. From the intricate collages of Sidney Nolan and James Gleeson's surrealist explorations, through the assemblages of Robert Klippel and Rosalie Gascoigne to Aboriginal artist Tony Albert's provocative Headhunter and Deborah Kelly's feminist assertions, the exhibition traverses the possibilities of the genre.
Helen Campbell, Art Gallery of NSW assistant curator of Australian prints and drawings and watercolors, selected the works from the Gallery collection including recent acquisitions: Deborah Kelly's Venus variations 2014-15, Katherine Hattam's Integrity of the personality 2014 and Robert Klippel's No 796 1989.
"Collage is remarkable and wide-ranging in its ability to collapse boundaries and challenge conventions in art. Fascinating and provocative, the works in Art of parts vary greatly in scale, materials, in the extent of found elements used and in how they are put together.
"The genre is distinctive in its repurposing of 'real world' elements that trigger imaginative association. While each collage or assemblage component retains some mark of its origin, it is simultaneously transformed through incorporation into the work of art- creating an intriguing tension between its original and altered states," Campbell said.
Showcasing a selection of works by some of Australia's key pioneers of collage and assemblage as well as more recent practitioners, Art of parts: collage and assemblage from the collection brings together examples from the cubist and surrealist experiments of the 1940s, the exuberance and protest of the 1960s, the formal and poetic explorations of the 1970s, and the personal and political directions of the later 20th and 21st century.
Related events
Community access tour and workshop: Art of parts
Thursday 22 September, 11am
For adults with specific needs. Engage in the process of adding elements together to create a multi-layered collage, supported by an artist educator.
Children's access workshop: Cut, colour, action
Wednesday 5 October 2016, 11am
Artmaking for kids with specific needs, their families and carers.
Curator's talk: Art of parts
Wednesday 5 October, 5.30pm
Discover the stories behind the artworks with Helen Campbell, assistant curator of Australian prints, drawings
Drop in and collage
Wednesdays 5.30pm, 12, 19 October
Free artmaking activity for all ages
Drop in and make: Pieces of art
Sundays 11am – 4pm 16 October, 6 November 2016
Cut, rip, tear and paste a range of papers, images and bits and pieces to make a collage.
On view
17 Sep – 13 Nov 2016
Art Gallery of New South Wales
Art Gallery Road, The Domain, Sydney
Admission
Free
Media contact
Hannah McKissock-Davis
Tel 02 9225 1671
hannah.mckissock-davis@ag.nsw.gov.au