Anne Landa Award 2011 winners
David Haines and Joyce Hinterding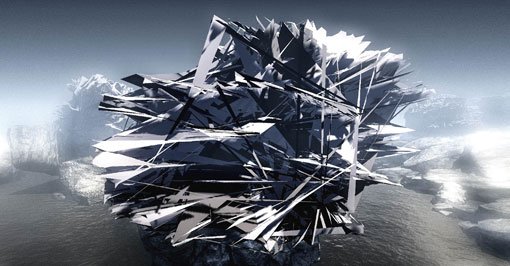 The Art Gallery of New South Wales announced today, Thursday 26 May, that artists David Haines and Joyce Hinterding have won the $25,000 acquisitive Anne Landa Award for video and new media arts.
Haines and Hinterding's visually stunning new work, The outlands invites visitors to take control and conduct their own voyage through an immersive digital world of forests, islands, and futuristic interiors.
 
With an interest in the natural landscape and cyber environments Haines and Hinterding converge the two in their impressive projects, creating the best digital media is capable of.  Rather than the structured, reactive and violent zones of video games The outlands is a virtual journey which rewards unstructured movement and where the haunting landscape adapts to audience interaction.   
 
This year's award was selected by Edmund Capon, Director of the Art Gallery of New South Wales and Wayne Tunnicliffe, Head of Australian Art.
 
The Anne Landa Award was the first biennial exhibition in Australia for moving image and new media work, with an acquisitive award of $25,000. The award was established in honour of Anne Landa, a Trustee of the Art Gallery of New South Wales, who died in 2002. This year's exhibition Unguided tours was curated by Justin Paton, art critic, author and senior curator at Christchurch Art Gallery, New Zealand.
 
Wayne Tunnicliffe, Head of Australian Art said:
'Haines and Hinterding have worked with new media for over 20 years creating some of the most ambitious intersections between digital technology and art practice in Australia. This is the first work of theirs to enter the Gallery's collection and we are delighted they have won this year's Anne Landa Award.'
 
David Haines (b1966, London, UK; resides Blue Mountains, Australia) and Joyce Hinterding (b1958, Melbourne, Australia; resides Blue Mountains, Australia) maintain independent practices and also collaborate on large-scale new media art works that explore sensation and immersion in digital worlds. Their collaborative projects have been exhibited extensively in Australia and internationally.
On view
5 May – 10 Jul 2011
Art Gallery of New South Wales
Art Gallery Road, The Domain, Sydney
Admission
Free
Media contact
Claire Martin
Tel 02 9225 1734
Mob 0414 437 588
claire.martin@ag.nsw.gov.au