Double win for portrait of Michael Caton
Bruno Jean Grasswill follows up Packing Room Prize with People's Choice award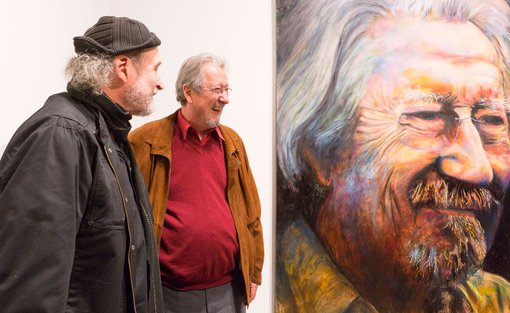 10 September 2015
Sydney artist Bruno Jean Grasswill has taken out the double in the Art Gallery of New South Wales' 2015 Archibald Prize, winning both the Packing Room Prize and now the People's Choice award for his portrait of Michael Caton.
It is only the third time in the history of the Archibald Prize that a finalist has won the two prizes in the same year.
Previous double-winners were Paul Newton in 2001 for his portrait of Roy and H.G. (John Doyle and Greig Pickhaver) and Jan Williamson the following year for her portrait of singer/songwriter Jenny Morris.
Grasswill's portrait of actor Michael Caton nudged out Sydney artist Julian Meagher's portrait of musician Daniel Johns and Carla Fletcher's mixed media work of fashion designer Jenny Kee to win the People's Choice award.
Since the 2015 Archibald Prize opened in July, visitors to the exhibition have voted on their favourite work, with Bruno Jean Grasswill's painting receiving the most votes. The People's Choice award carries a $3,500 cash prize for the artist.
It was on his 69th birthday this year that French-born Grasswill painted the last brushstroke on his oil painting of Michael Caton. He has been entering the Archibald Prize regularly since moving to Australia in 1971 and this was his first year as a finalist.
Congratulating Grasswill on his win, Art Gallery of New South Wales Director Michael Brand said the painting had clearly struck a chord, from the packing room staff right through to the gallery-going public.
"Michael Caton is a much-loved Australian and his portrait is the kind of work the Archibald Prize is all about," Brand said.
"The Prize is a lively celebration of people in the public eye and the People's Choice award recognises the favourite faces our visitors have enjoyed," Brand added.
Mark Whelan, Chief Executive Officer, ANZ Australia, principal sponsor of the Archibald, Wynne and Sulman Prizes, congratulated Bruno Jean Grasswill on winning the People's Choice award.
"It's a significant achievement to have been nominated as the favourite piece of work of those who have attended the exhibition over the past few months. It's a worthy winner and I encourage everyone to go and see it for themselves before the exhibition closes on September 27," Whelan said.
Each year one person who voted for the People's Choice award-winning painting is selected at random to win a People's Choice voters' prize. In 2015, the lucky voter is Christine Power, who receives a $3,500 cash prize. Christine said she loved the way Bruno Jean Grasswill captured the essence of Michael Caton.
"The portrait highlights the true larrikin character that he is in all his rugged glory, but also shows his thoughtful and enduring side which seems to speak to you from this painting. It certainly has done justice to a great Australian actor," Power said.
About Bruno Jean Grasswill, artist
Born in France in 1946, Bruno Jean Grasswill came to Australia in 1971. He has worked professionally in visual arts disciplines such as photography, commercial art, illustration, computerised art, art direction and fine arts. Bruno Jean Grasswill holds private exhibitions and works on commissions. He has had two portraits hung in the Salon des Refusés exhibition previously. Bruno Jean Grasswill's catalogue of works is extensive, from book covers, book illustrations, advertising, graphics and numerous works of art, for the most part created to explore human relationships. His range of works is wide – from abstract to surrealism.
About Michael Caton, sitter
Michael became a household name in the 70s playing Harry Sullivan in The Sullivans. He went on to appear in cult series such as Homicide and Cop Shop. Other television credits include Stingers, The Flying Doctors, Blue Heelers, All Saints, Wildside and A Country Practice. He played the role of Ted Taylor in six hugely successful seasons of the Channel Seven series Packed to the Rafters.
Michael's film appearances include The Interview, The 13th Floor, Monkey Grip and Hoodwinked. He starred in Strange Bedfellows opposite Paul Hogan, but it was his portrayal of Dale Kerrigan in the much loved (and much quoted) feature film The Castle that captured the hearts of Australians and established him as a national treasure. At the 2014 Australian International Movie Convention, Michael Caton was presented with a Lifetime Achievement Award by the National Association of Cinema Operators Australasia for his distinguished career and contribution to the industry. Michael's most recent feature film, Last Cab to Darwin, is currently screening. Last Cab to Darwin also stars Jacki Weaver and was directed by Jeremy Sims.
View the 2015 Packing Room Prize and People's Choice award-winning portrait
More information about the Archibald, Wynne and Sulman Prizes 2015
2015 Archibald Prize touring exhibition details:
2 October 2015 – 15 November 2015 Art Gallery of Ballarat
20 November 2015 – 10 January 2016 New England Regional Art Museum
15 January 2016 – 28 February 2016 Tweed River Art Gallery
5 March 2016 – 17 April 2016 Manning Regional Art Gallery
23 April 2016 – 5 June 2016 Lake Macquarie City Art Gallery
11 June 2016 – 24 July 2016 Blue Mountains Cultural Centre
On view
18 Jul – 27 Sep 2015
Art Gallery of New South Wales
Art Gallery Road, The Domain, Sydney
Admission

$15 adult
$12 concession
$10 child (5-17 years)
$10 member
$40 family (2 adults + up to 3 children)
Free for children under 5
Dining and accommodation packages available
Booked school groups
$7 per student, and see Julia Margaret Cameron free
Media contact
Simone Bird
Tel 02 9225 1674
simone.bird@ag.nsw.gov.au