Go East: The Gene & Brian Sherman Contemporary Asian Art Collection
Over thirty works by twenty of Asia's most dynamic artists on display at the Art Gallery of NSW and Sherman Contemporary Art Foundation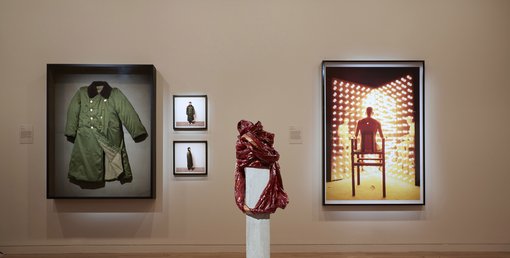 The largest public display of Sydney philanthropists Gene and Brian Sherman's contemporary Asian art collection is now open at the Art Gallery of New South Wales and Sherman Contemporary Art Foundation with the exhibition Go East: The Gene & Brian Sherman Contemporary Asian Art Collection.
Spanning two sites, Go East features thirty one works by twenty artists from across Asia.
The artists' practices range from installation and performance to photography and sculpture. Underpinned by strong societal commentary, the works reflect the Shermans' long-standing fascination with art informed by text and textiles, as well as their commitment to works addressing social justice issues.
Art Gallery of NSW Director Michael Brand says Go East celebrates a significant collection created by two individuals renowned for their long-standing commitment to the visual arts.
"The creativity that results from public art museums and private collectors working together in this way is full of powerful possibilities, which bring great benefit to civic life," said Brand.
Art Gallery of NSW Director of Collections Suhanya Raffel says the exhibition offers visitors a rare insight to the Shermans' personal journey as collectors, as well as the opportunity to consider Australia's unique geographic and cultural connection to Asia.
"The works included in the exhibition weave together a rich tapestry of histories from across Asia. Although each artist is unique, their works collectively paint a picture of the region and Australia's place within it," said Raffel.
Chairman and Executive Director of Sherman Contemporary Art Foundation, Gene Sherman is delighted to have the opportunity to share some of her most significant contemporary Asian artworks with the people of New South Wales and to support contemporary artists in doing so.
"Many of the works from our collection have never before been seen in Australia – including those by major artists Jitish Kallat, Ai Weiwei and Yang Zhichao.
"To see these important works on display at both the Art Gallery of NSW and SCAF for so many people to enjoy is a thrill – but so too is the real benefit an exhibition of this kind brings to the artists themselves," Sherman said.
Exhibition works at AGNSW:
A newly commissioned artwork by dissident Chinese artist Ai Weiwei premieres in the exhibition. The work, An Archive (2015), comprises 6,830 sheets of rice paper that detail the artist's social media commentary from 2005 – 2013. Stacked in a traditional huali wood box, each sheet is individually designed, taking Weiwei and his designers over six months to create.
Jitish Kallat's compelling installation Public Notice 2 (2007) commands the Gallery's entrance court. Its vast field of bone-shaped letters spell out Mahatma Gandhi's famous speech delivered on the eve of the historic 1930 Salt March. This work is an inspiring homage to the human rights and social justice movements of the twentieth century.
Hanging from the ceilings of the Gallery's foyer is Lin Tianmiao's Badges (2009), a delicate but complex work of 266 pieces, each meticulously embroidered with Chinese phrases that describe women and their place in the world, including 'super woman', 'business woman' and 'meat-eating woman'.
Exhibition works at SCAF:
Yang Zhichao's monumental installation Chinese Bible (2009), which features 3,000 diaries and notebooks that the artist collected from markets in Beijing. Dated from 1949 to 1999, the books contain personal writings from generations of Chinese people, tracking the impact on individual lives of fifty turbulent years in Chinese history.
Go East Artists:
Ai Weiwei, Alfredo and Isabel Aquilizan, He Yunchang, Bharti Kher, Shigeyuki Kihara, Jitish Kallat, Dinh Q. Lê, Lin Tianmiao, Daidō Moriyama, Nortse, Eko Nugroho, Navin Rawanchaikul, Shen Shaomin, Song Dong, Charwei Tsai, Yang Fudong, Yang Zhichao, Yin Xiuzhen, and Zhang Huan.
Exhibition Publications:
A three-part publication accompanies the exhibition. Contributors include Suhanya Raffel, Claire Roberts, Sang Ye, David Elliott, Chaitanya Sambrani, Quddus Mirza, and Gene Sherman among others, who have all been deeply involved with Asian contemporary art, its presentation in Australia and internationally.
Public Programs:
To further celebrate Go East: The Gene & Brian Sherman Contemporary Asian Art Collection, the Art Gallery of NSW and SCAF will both host public program during the exhibition. The Gallery's Wednesday night program, Art After Hours, will host a series of talks delving into topics including migration, gender, censorship and the role of art in politics. And SCAF's Culture+Ideas program will explore aspects of Yang Zhichao's Chinese Bible via a series of talks, forums, literary events, children's workshops and events in partnership with the Sydney Writers' Festival.
Exhibition details
Art Gallery of New South Wales
Dates: 14 May – 26 July 2015
Hours: Open daily 10am–5pm, Wednesdays until 10pm
Admission: Free
More info: artgallery.nsw.gov.au
Sherman Contemporary Art Foundation
Dates: 14 May – 1 August 2015
Hours: Open Wednesday to Saturday 11am–5pm
Admission: Free
More info: sherman-scaf.org.au
Media contacts
Lisa Catt
Art Gallery of New South Wales
E: lisa.catt@ag.nsw.gov.au
T: (02) 9225 1791
M: 0431 509 978
Sophie Holvast
Sherman Contemporary Art Foundation
E: sholvast@sherman-scaf.org.au
T: (02) 9331 1112
On view
14 May – 26 Jul 2015
Art Gallery of New South Wales
Art Gallery Road, The Domain, Sydney
Admission
Free
Media contact
Lisa Catt
Tel 02 9225 1791
Mob 0431 509 978
lisa.catt@ag.nsw.gov.au