Imprint: photography and the impressionable image
The metaphoric connection between photography and the sculptural cast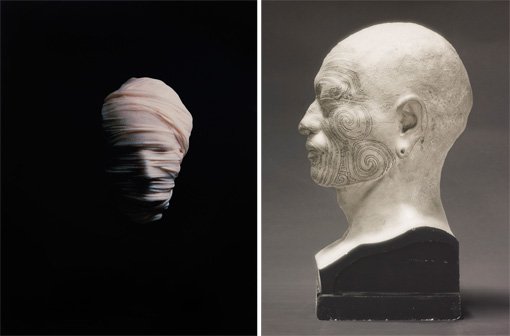 Imprint: photography and the impressionable image investigates the metaphoric connection between photography and the sculptural cast, placing these two mediums in direct dialogue. Drawn exclusively from the Gallery's collection, the exhibition presents photographs by Australian and international artists that feature life casts, death masks, fossils, wax moulds and other cast forms.
"Photographs and sculptural casts are both modes of reproduction that memorialise their subjects. They record a likeness but also retain a trace of the subject itself. Whether this trace is left by physical contact – as it is in the sculptural cast – or light – as it is in the photograph – it binds the subject to its reproduction. The works in Imprint address this complex relationship, examining the tension that exists between the original and the copy, the animate and the inanimate, and the mask and the memorial.
"From American pictorialist Edward Steichen to avant-garde German photographer Werner Rohde and contemporary artists Christine Cornish and Fiona Pardington, the exhibition charts the way the photographic delineates and echoes the sculptural," said Isobel Parker Philip, assistant curator of photographs at the Art Gallery of New South Wales.
The exhibition features 19th-century photographic material alongside work by contemporary practitioners. It was during the 19th century, with the photographic medium in its infancy, that photography and sculpture became affiliated with one another.
Early photographic practitioners often used statuettes and plaster casts as subject matter. These stationary objects could withstand the long exposure times that photographic technology demanded and their surfaces were still legible in early photographic prints. Both mediums contributed to the mass industry of copies and reproductions that began to thrive in the 19th century. The connection between the two mediums is still as resonant today.
Imprint showcases 31 works by 24 artists and is accompanied by a series of exhibition talks held on the second Wednesday of every month at 5:30pm, as part of the Gallery's regular late night program, Art After Hours. These talks will feature artists in the exhibition and other experts.
Featured artists: Arturo Bragaglia, Harold Cazneaux, Christine Cornish, Max Dupain, Frederick H Evans, Roger Fenton, Herbert French, Robert Hellis, William Hetzer, Douglas Holleley, Horst P Horst, Merryle Johnson, Peter Lyssiotis, David Moore, Lewis Morley, Fiona Pardington, Werner Rohde, Medardo Rosso, Wolfgang Sievers, Edward Steichen, Juliana Swatko, Ingeborg Tyssen, and Les Walkling.
On view
6 Feb – 18 May 2016
Art Gallery of New South Wales
Art Gallery Road, The Domain, Sydney
Admission
Free
Media contact
Kamal Rana
Tel 02 9225 1606
kamal.rana@ag.nsw.gov.au