The mad square: modernity in German art 1910–37
Amidst an era of chaos came an explosion of creativity – edgy, provocative, yet utterly compelling

This is the first exhibition in Australia to look in-depth at the turbulent time of the Weimar Republic when, following the catastrophe of World War I and in a period of intense crisis, Germany entered an extraordinary era of creative artistic fervour.
The mad square exhibition, organised by the Art Gallery of New South Wales with loans from museums and private collections from around the world, opens in Sydney 6 August 2011, and tours to the National Gallery of Victoria, Melbourne, in November.
Berlin, 100 years ago, is the starting point for the exhibition. The thriving cosmopolitan metropolis provided new subject matter and new audiences for radically modern art forms. Over two decades Germany became a centre for international avant-garde artists who were attracted to the culture of Weimar Germany.
Through over 200 works by leading artists of the period – including Max Beckmann, Otto Dix, George Grosz, John Heartfield, Hannah Höch, Karl Hubbuch, Ernst Ludwig Kirchner, Käthe Kollwitz, László Moholy-Nagy, August Sander, Christian Schad, Rudolf Schlichter and Kurt Schwitters – The mad square reveals the intensely original art forms both of this time and the fascinating and complex ways in which artists responded to the forces of modernity.
During this unprecedented moment in history, avant-garde movements – Expressionism, Dada, Bauhaus, Constructivism and New Objectivity – blossomed and were linked by artists' shared interest in radical experimentation across all areas of the visual arts, including painting, sculpture, graphic art, decorative arts and design, photography and film.
Berlin Sydney
In conjunction with The mad square, a series of programs focussing on Weimar culture and Berlin in the 1920s – covering theatre, music, cabaret, exhibitions and other events – will be held around Sydney. Organisations include Sydney Theatre Company, Sydney Symphony, Sydney College of the Arts, and Museum of Sydney.
On view
6 Aug – 6 Nov 2011
Art Gallery of New South Wales
Art Gallery Road, The Domain, Sydney
Admission
$20.00, $15.00 concession
Media contact
Claire Martin
Tel 02 9225 1734
Mob 0414 437 588
claire.martin@ag.nsw.gov.au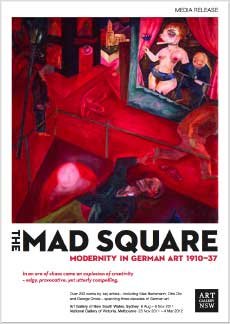 Full media release (PDF 367.2 KB)