Masters of modern sound
Experience the radical experimentation of today's innovators of sound at AGNSW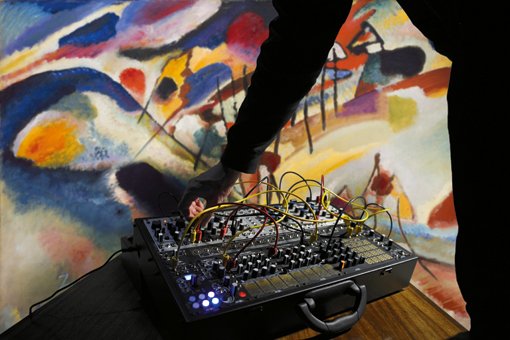 For three nights in January the Art Gallery of New South Wales presents Masters of modern sound, an after-dark experience of art, space and sound with performances by leading Australian and international composers, musicians, sound designers and dancers.
Masters of modern sound co-presented by the Art Gallery of NSW, Force Majeure and Sydney Festival 2019 features the following artists:
• Dean Hurley
• William Basinski and Lawrence English
• Force Majeure: Ghenoa Gela, Harrison Elliott and James Vu Anh Pham
• Chris Abrahams
• Caterina Barbieri
• Del Lumanta
• Corin Ileto, Becky Sui Zhen and Casey Hartnett
Staged throughout the Gallery, including in the Sydney International Art Series exhibition Masters of modern art from the Hermitage which features the work of artists such as Monet, Matisse, Picasso and Kandinsky, audiences will encounter a large-scale immersive soundscape.
Masters of modern sound offers the opportunity to experience newly commissioned sound design and compositions that respond to Masters of modern art from the Hermitage by both the Emmy-nominated music producer and long-time David Lynch collaborator Dean Hurley and the Australian collaborative trio: Corin Ileto, Becky Sui Zhen and Casey Hartnett.
Hurley's new work is a direct response to key artworks in Masters of modern art from the Hermitage and the Gallery's brutalist architecture, while Ileto, Zhen and Hartnett's ambient multi-instrumental compositions, specially commissioned for the exhibition's audio guide, will be performed as a live score.
Masters of modern sound is Berlin-based Italian composer Caterina Barbieri's first live performance in Australia following appearances at prestigious festivals Berlin Atonal and Unsound (Krakow) and the release of her second critically-acclaimed album Born Again in Voltage (Important Records) in September.
Local acts include a solo performance by Western Sydney artist and musician Del Lumanta and the meditative sounds of renowned Sydney-based pianist Christopher Abrahams.
The event culminates in a live performance by Brisbane-based composer, artist and curator Lawrence English and Los Angeles based avant-garde composer William Basinski. English and Basinski released their first collaborative album Selva Oscura in October 2018.
Basinski is best known for his four-volume ambient album The Disintegration Loops (2002–2003), constructed from rapidly decaying twenty-year-old tapes of his earlier career as a classically trained clarinettist and jazz saxophonist. English and Basinski will close Masters of modern sound with an Australian-exclusive live performance of Selva Oscura in full.
Masters of modern sound will also showcase original movement and interventions in response to the music and artworks, created and performed by the critically acclaimed dance theatre company Force Majeure. Led by artistic director Danielle Micich, the performers for Masters of modern sound include independent artist and Torres Strait islander Ghenoa Gela and Harrison Elliott from Australian Dance Theatre and Belgium-based Helpmann Award winner James Vu Anh Pham.
To accompany the Masters of modern sound event Chiswick at the Gallery will present a pop-up bar for the evening with wine, beer and delicious finger food designed by head chef Tim Brindley.
Masters of modern sound has been supported by Atelier, the next generation of benefactors at the Art Gallery of New South Wales.
Masters of modern sound
Thursday 10 – Saturday 12 January 2019
8pm
$65 plus booking fee
Bookings essential
Book online via Sydney Festival
Duration 4 hours
Related exhibition: Masters of modern art from the Hermitage