State Street Learning for Life launched by Del Kathryn Barton
New education program for Art Gallery of NSW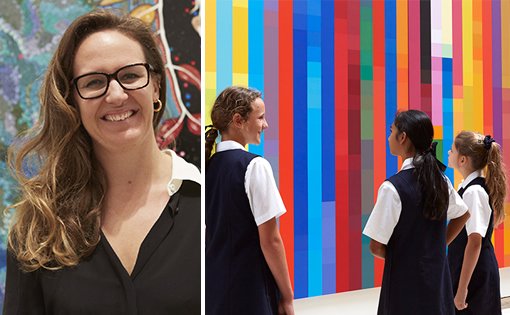 25 March 2014
This is the most significant commitment to our education program in the Gallery's history. – Michael Brand, director, Art Gallery of New South Wales
The Art Gallery of New South Wales today announced the Gallery's first significant education partnership in its history with one of the world's leading providers of financial services to institutional investors, State Street. This partnership will see the art museum greatly increase the number and variety of programs, including those for children and families over the next three years.
The new program, called State Street Learning for Life, will enable the Gallery to substantially increase its education programs for all visitors, including schools, families and the general public.
This is the most significant commitment to our education program in the Gallery's history and we are absolutely delighted. More than 230,000 people attend our programs including films, lectures and tours each year, 20,000 of whom participate in the popular family programs. Now, with State Street's support, we will see an increase in art activities and the number of participants could almost double, said Michael Brand, director.
Today it was also announced that two-time Archibald Prize winning artist Del Kathryn Barton, is the State Street Learning for Life ambassador.
I am delighted to be the ambassador for this important and creative partnership and will use this new role to encourage as many people – particularly young people – to experience art in the hope that this will inform and enhance their lives. I passionately believe that involvement in the arts including the visual arts has wide-ranging benefits for young people throughout their entire life, said Del Kathryn Barton.
Lochiel Crafter, head of State Street Global Advisors for Asia-Pacific said: At State Street, we believe that we have a commitment to making life better in the communities in which we live and work. The State Street Learning for Life program allows us to inspire, nurture and educate future generations of innovators in Australia and we believe that innovation is one of the single most important success factors for culture, communities and economies to flourish.
One feature is the new Third Sundays at the Gallery program, beginning 18 May 2014 and running monthly for the next three years. Visitors of all ages will be able to engage with at least five hours of non-stop art programs and activities. There will also be more access options for visitors who are vision- and hearing-impaired to experience artworks in our collection.
State Street Learning for Life will also help to expand the Gallery's program for students at universities, art schools and high schools in NSW. In 2014 this will include resources for many more disadvantaged high schools to visit the Gallery. It will also see the development of the Sydney Students Speak higher education program. Later in the year the Gallery will hold a Gallery Kids Festival Day on 21 September. In November the Gallery will launch Art Sets, a program that will inspire visitors, teachers and students to collect and share their favourite works and videos from the Gallery's collection of more than 30,000 works of art.
Notes for editors
State Street Corporation (NYSE: STT) is one of the world's leading providers of financial services to institutional investors including investment servicing, investment management and investment research and trading. With $27.4 trillion in assets under custody and administration and $2.3 trillion in assets under management* at 31 December 2013, State Street operates in more than 100 geographic markets worldwide, including the US, Canada, Europe, the Middle East and Asia. For more information, visit State Street's website at www.statestreet.com
State Street has a 37-year history in making social investments with a focus on educational development, both globally and locally.
The State Street Global Volunteer program dedicates almost 100,000 hours from 29,000 members of staff each year to non-profit organisations globally and in Australia. For more information about State Street's CSR initiatives, visit statestreet.com/better
*This AUM includes the assets of the SPDR Gold Trust (approx $31 billion as of 31 December 2013), for which State Street Global Markets, LLC, an affiliate of State Street Global Advisors, serves as the marketing agent.