AGNSW and Macquarie University launch Youth Collective
Supporting tomorrow's arts professionals and cultural leaders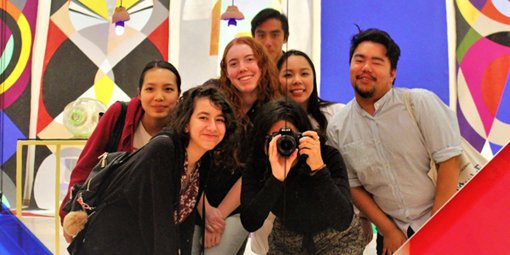 Providing an unprecedented opportunity for secondary and tertiary students looking to work in the arts and culture sector, the Art Gallery of New South Wales in partnership with Macquarie University today launched the inaugural Youth Collective initiative.
Created to provide students in the formative years of their careers industry experience and professional mentorship from Macquarie University and Art Gallery of NSW staff, over sixty students will be offered the opportunity to participate in the Youth Collective program over the next three years.
Made possible by a new three-year partnership between Macquarie University and the Art Gallery of NSW, the first 20 students from across Sydney have been selected for the inaugural year of the Youth Collective program.
Aged between 15 and 24, the students are from Macquarie University, University of Sydney, UNSW Sydney, UNSW Art & Design, University of Technology Sydney, Auburn Girls High School, Barker College and the Georges River College (Oatley Senior Campus) and St Vincent's College.
Meeting once a month at the Gallery during 2018 students in the inaugural Youth Collective program will be supported to create programs and events at the Gallery for their peers by specialist Gallery staff including curators and public program, education, digital, marketing and communications professionals as well as artists and performers.
Macquarie University participating student Julianne Phu said through their unique perspective as young Australians, the Youth Collective's aim is to create a series of interactive and accessible programs to ignite young people's creativity and imagination.
"We have worked together to identify that through this program we want to build a safe and open platform where we can foster dialogue between young people from a range of social and cultural backgrounds regarding issues that affect their personal experiences, while expanding the culture of the arts within the youth community across New South Wales," Ms Phu said.
Providing students highly valuable practical experience working in an arts and culture environment, Art Gallery of New South Wales director Dr Michael Brand said the Youth Collective initiative was a wonderful opportunity for participating students and would also benefit the Gallery and Macquarie University communities.
"Exciting education initiatives such as this ensure our institutions are open to new ideas, new audiences and new ways of seeing – all critical to the success of arts-engaged communities in the future," Dr Brand said.
"We are thrilled to welcome the Youth Collective cohort into the Gallery community and along with our Macquarie University colleagues, we look forward to seeing the ideas, programs and events generated by the students participating in the program," Dr Brand added.
Professor David Wilkinson, Macquarie University's Deputy Vice Chancellor Corporate Engagement and Advancement, said Macquarie has a deep commitment to providing opportunities for students to grow and learn beyond the lecture theatre.
"The Youth Collective program is a wonderful example of ensuring our students gain valuable access to development opportunities within the gallery, while also making a contribution to arts and the community. We are very proud to support this program as one example of our ongoing relationship with the Art Gallery of NSW," Professor Wilkinson said.
As part of their participation in the Youth Collective program students will also be provided with exclusive behind-the-scenes access to the Art Gallery of NSW's collection, exhibitions and resources and will receive Gallery student membership and complimentary entrance to all 2018 ticketed exhibitions.
Students in the inaugural Youth Collective program will be supported to create a public event series for their peers. The series, FOMArt (Fear of Missing Art), will take place at the Gallery on the last Saturday of each month. The first event takes place on Saturday 31 March 2018, and sees ARTEXPRESS artists in conversation with Youth Collective members about their works in the exhibition. (ARTEXPRESS runs at AGNSW until 25 April, free).