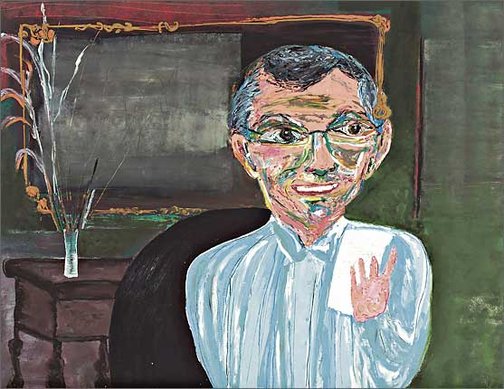 Davida Allen
Philip Bacon, art dealer, reading a letter from Barry Humphries
Medium

oil on canvas

Read label text

Philip Bacon is Davida Allen's art dealer. She has been showing at his Brisbane gallery for four years 'and he just got under my skin,' she says. 'I suppose I saw things about him that aren't necessarily the persona he gives off at the gallery. He's become a friend, so I painted him for similar reasons to why I painted my father-in-law for the Archibald back in 1986. You feel something special that you want to capture.'

Allen calls her portrait 'a vivisection of the man. I always knew I would paint him at his desk because a lot of an art dealer's work is done there,' says Allen, who spent lengthy periods in Bacon's office watching him. Usually she would take her husband, a friend of Bacon's, along so the two of them could chat and Bacon wouldn't feel self-conscious. 'One day I had to go in on my own to do drawings and photographs,' she recalls. 'At that stage I still didn't know how to paint him. It was a hot day and he was wearing this lovely blue striped shirt, a gorgeous thing. He felt uncomfortable with me looking at every pore in his face so he started reading his mail. One of the letters was from Barry Humphries talking about a show he had booked in with Philip. Philip would read out snippets with genuine amusement. You could see there was a relationship between writer and reader and that clinched it for me. His smiles, laughter and enjoyment of his letter was what I ended up painting.'

Bacon calls the portrait 'an orthodontist's dream picture'. With all her children home to roost, Allen and her husband have been sleeping in her studio. 'So I've been living with the portrait. I'd wake up during the night and see it and it looked as though he wasn't really enjoying it, as if he was just smiling for the camera. So at 2am one morning I thought I'm going to add three more teeth, big white chunks of teeth. It's physically impossible but it worked.'

Born in Queensland in 1951, Allen is married to a doctor and has four grown-up daughters. She won the Archibald Prize in 1986 with a portrait of her father-in-law. She exhibited at Ray Hughes Gallery in Sydney from 1973 to 1989, at the Australian Galleries from 1991 to 2000 and at Philip Bacon Galleries from 1999 to the present.