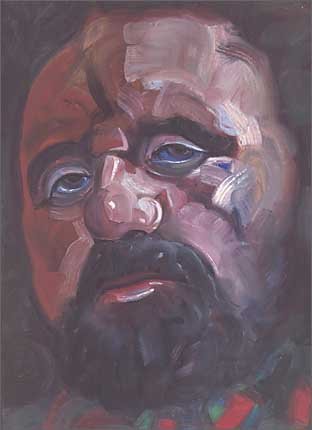 Warren Breninger
Self portrait
Medium

oil on board

Read label text

Warren Breninger is a visual artist and a poet. He has been exhibiting since 1971 and his poetry has been published in various journals since 1977. His art work covers mixed media, painting, photography and drawing.

In an artist's statement, Breninger has this to say of his self portrait: "Though all of my work is uncompromisingly figurative, endless in its serial variations and deeply wrapped in the personal, it would be true to say that my self portraits are even more serious, more relentlessly religious and unremittingly exposed."

'You recline on the very edge of sleep

or like a morsel on the crest of the lips

you hold on waiting to be consumed.

You hang as a willow of fireworks or the golden fleece

While the innermost organs settle like sunken ships.

At the first and last sound from the inner dark

Driven or dribbling from the heart's pulsating mouth

Unguarded by health or thought police

You are crushed across the back like a mouse

You lift in unrecorded moments of pleasure

And taste the sublime fruits of the resurrection

You are overcome with the light and the power

Of that unnatural stillness, that makes no reply or remark.'

Being Still, January 2000

Born in Melbourne in 1948, Breninger lives in North Frankston, Victoria. He is married with five children. He completed a Master of Fine Arts at the Victorian College of the Arts, 2000-2001, and is a part-time secondary teacher of Media and a casual lecturer in drawing. He has had 28 solo exhibitions since 1974 and his work is in most state collections including the Australian National Gallery. He has won various prizes including the James Farrell Self Portrait Award in 2001, the Blake Prize in 1989, the Alice Prize in 1989, the Dominique Segan Drawing Award in 1988 and the Lady Fairfax Portrait Award at the Art Gallery of NSW in 1982. He was a finalist in the 1998 Archibald Prize with another self portrait.