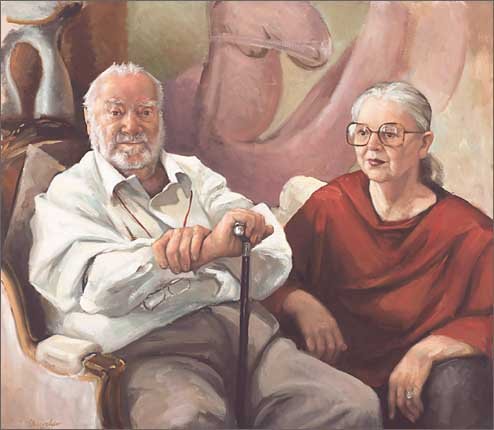 Peter Churcher
Loti and Victor Smorgon
Medium

oil on canvas

Read label text

Victor Smorgon is a leading Australian business entrepreneur. He and his wife Loti are great art lovers and philanthropists. They recently donated an extensive collection of Australian art to the Museum of Contemporary Art in Sydney. Peter Churcher had known of them for many years and seen them in the distance at various functions but didn't meet them properly until two years ago at a dinner party. 'Their presence as a couple impressed me strongly,' he says. So he rang Loti and asked if he could paint them for the Archibald. Then, at the beginning of 2002, he was appointed as Australia's official war artist and spent time in the Persian Gulf and in Afghanistan. Early this year he rang the Smorgons again to say he still wanted to do the portrait for the Archibald, though there wasn't a great deal of time. In a matter of weeks, he did ten sittings and painted the portrait at their apartment around the corner from his Melbourne studio.

Initially, says Churcher, Loti was slightly reluctant. She suggested that Churcher just paint her husband, but it was the strong sense of them as a couple that had really struck him and he pressed her a little bit more until she agreed. 'I think that that reticence comes through a bit in the painting,' says Churcher. 'Victor's very much there, looking directly at you. They are an extraordinary couple. They were married in 1937 and they are still so in love and still so warm with each other. It's an amazing thing to see.'

Born in Queensland in 1964, Churcher did a Bachelor of Music at Melbourne University and a Bachelor of Fine Art at Prahran School of Art and Design. He has been a finalist in the Sulman Prize on three occasions and in the Archibald Prize on four previous occasions.