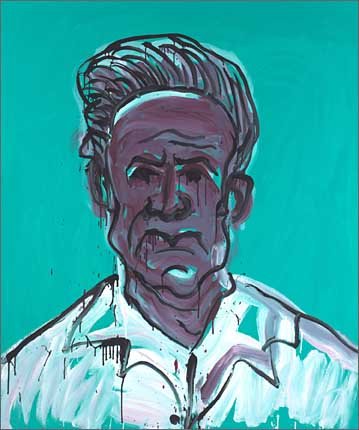 Adam Cullen
Jimmy Little
Medium

acrylic on canvas

Read label text

Jimmy Little has been an entertainer for around 40 years. Adam Cullen first heard him sing years ago but had never met him prior to painting his portrait. 'I've always enjoyed his voice,' says Cullen. 'He sings in a kind of whisper – although it's quite audible – which sticks in your head. And I've always been very taken by his dark eyes. They are almost impenetrable, they seem to go on forever.'

When Little agreed to sit for him, Cullen went to meet the performer and they hit it off straight away. 'He's very easy to be with," says Cullen. 'He puts you at ease immediately. He's a very spiritual man, in a different world.' Cullen did a lot of preliminary work including many drawings and thought about the portrait for a long time, then executed it over a couple of days.

Born in Sydney in 1965, Cullen lives in Wentworth Falls in the Blue Mountains. He has had annual solo exhibitions at Yuill/Crowley in Sydney for the past ten years and has shown in numerous group shows including Bitter sweet at the Art Gallery of NSW in 2002 and Perspecta in 1993 and 1999. He was represented in the Sao Paulo Biennale of Contemporary Art in Brazil in 2002. His work is held in major public and private collections around Australia. This is his sixth time as an Archibald finalist. He won the Archibald Prize in 2000 with his portrait of actor David Wenham and was runner-up in 1999 with his portrait of actor Max Cullen.