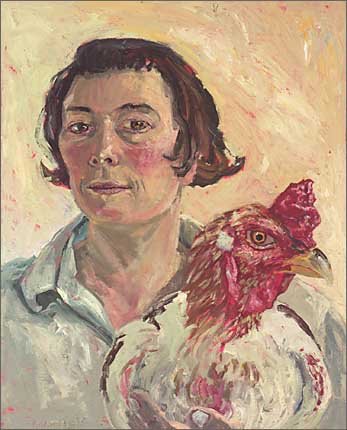 Lucy Culliton
Self with subject (cock)
Medium

oil on canvas

Read label text

Lucy Culliton generally paints a self-portrait every year for the Portia Geach Memorial Award. She does them, she says, as an exercise in figurative painting and spends three months beforehand practicing. She likes to work in series and ties the self portraits in with the subject she is exploring at that particular time. In the past she has exhibited series of food paintings, farm paintings, paintings of horses (she owns and rides horses), and of the landscape around Hartley in the Megalong Valley, NSW, where she has a studio. Currently she's painting poultry. She spent three days at the Royal Easter show last year drawing and photographing the champion birds.

This particular kind of bird gets bald patches so you can see plenty of pinky-red skin. "I love that lush pink colour, it appears in all of my paintings," says Culliton. She tends to paint very quickly, usually in one sitting, but came back to this one for an extra session because she felt she had too much green around the mouth. "I have made four self-portraits holding chooks. We have chooks ourselves so I painted my own bantam but he looked far too nice and sweet. This bird is the kind of bird I wish our rooster was!"

Born in Sydney in 1966, Culliton studied at the National Art School. Still based in Sydney, she spends five days a week in her studio in Hartley. She has had solo exhibitions of views from the studio, the landscape around Hartley in 2002, food paintings in 2000 and farm paintings in 1999, all at Ray Hughes Gallery in Sydney. She was awarded the 2000 Mosman Art Prize, the 1999 Conrad Jupiters Prize and was Highly Commended in the1999 and 2002 Portia Geach Memorial Award.