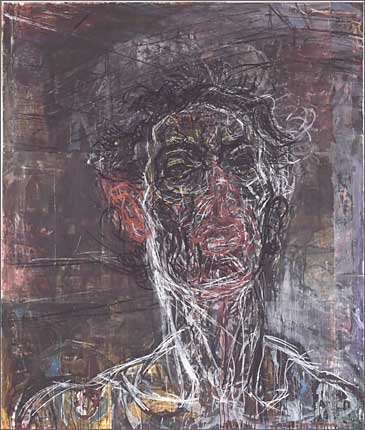 David Fairbairn
Auto portrait DF
Medium

mixed media on paper

Read label text

"My work is a self portrait and was done without my glasses on," says David Fairbairn of his entry. "I'm really interested in analysing the structures under the glasses and they got in the way. I just got irritated because I couldn't see into the eyes and the sockets clearly enough."

Fairbairn lives in Wedderburn, NSW in a community with a significant number of artists and craftspeople. The single unifying factor and focus in his work for the past two decades has been portraiture. Many of his subjects are family or friends who live locally. He is interested in the idea of mapping the terrain of the face, and since he lives in a bush environment, his mark making is as much about the landscape as the people who live in it. "All my portraits are really just ways of containing information about making drawings and paintings," he says. "I don't necessarily see them as being about portraiture."

This particular work started out as a monotype: painted images offset from perspex onto paper. From there he built it up with acrylics, pastels and gouache. "I build up successive layers of different media until I define the image," he says. "It includes a variety of images from the bush, the heads of other people, a whole medley of other information." Fairbairn won the Doug Moran Portrait Prize last year with a portrait of his wife, painter Suzanne Archer, using a similar process.

Over the past nine months Fairbairn has done around 100 self portraits as part of a re-evaluation process. Picasso, Bonnard and Munch's self portraits were inspirational sources for him. "Since 1984 I have been making portraits and now felt the need to re-evaluate my approach. I have chosen myself as subject in order to consider the psychology of the person as well as the physical appearance. This has also led to a more emotive investigation of the subject."

Born in Zambia in 1949, Fairbairn's work was initially inspired by African masks and influenced by his obsession with portraiture. He studied art in London before arriving in Australia in 1981. He has had 14 solo exhibitions since then and has won over 40 art prizes and awards. These include the 2002 Doug Moran Portrait Prize and the 1999 Dobell Drawing Prize at the Art Gallery of NSW. The first time he was a finalist in the Archibald Prize in 1984, it was also with a self portrait. He was also an Archibald finalist in 2000 and 2002.