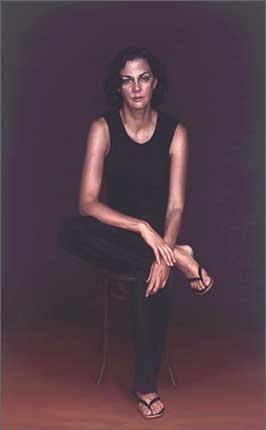 Mathew Lynn
Hetti Perkins
Medium

oil on linen

Read label text

Hetti Perkins is an Eastern Arrernte and Kalkadoon woman. She is the curator of Aboriginal and Torres Strait Islander Art at the Art Gallery of NSW. Most recently she curated True Stories, Art of the East Kimberley, which is showing until the end of April in the Yiribana Gallery. Other curatorial credits include Papunya Tula: Genesis and Genius (2000) and Fluent, Australia's contribution to the 1997 Venice Biennale. She was also the curator of the Boomalli Aboriginal Arts Cooperative in Sydney. She is presently preparing a major exhibition called Stone Country for 2004 incorporating contemporary bark paintings, fibre-work and sculpture by Western Arnhem Land artists.

Hetti is the eldest daughter of the late Charles Perkins and has travelled throughout much of Australia. She is passionately involved in researching, writing about and promoting Indigenous art and is currently working towards a major publication celebrating the work of Aboriginal and Torres Strait Islander artists, ranging from pre-colonial times to today. Like her father, she is committed to addressing the wider social issues concerning Aboriginal people through her work with the Charles Perkins Children's Trust and the Western Desert Dialysis Appeal.

Perkins was the subject for Mathew Lynn's Archibald Prize entry of 2001. Even before he finished that picture he knew he wanted to paint her again. "For me she has this universal quality that allows me to see all kinds of human characteristics represented within her. Although they are common to all people, I can 'see' them more clearly through her," he says. "So while it is a portrait of Hetti, she nevertheless, in a way, amplifies all people. This is presented through the wonderful combination of things that is Hetti." Lynn would like to paint her again invoking one of her favourite songs, Wild as the Wind by Nina Simone. Lynn also talks about his interest in portraying the 'feminine aspect' which, as with all people, he perceives within himself. In this sense, the figure seems to have the formal quality of a feminine deity. As with most previous portraits, Lynn presents his subject minimally, to allow as direct an impression as possible to resonate.

Born in Sydney in 1963, Lynn has been exhibited in the Archibald Prize on seven previous occasions. In 1997 he was a runner-up and was voted People's Choice for his portrait of writer/producer/television presenter, Jeanne Ryckmans. He was also a runner-up in 1998 with his portrait of artist Guan Wei and has been exhibited in the Wynne and Sulman prizes.