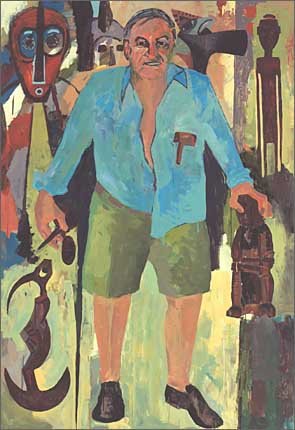 Henry Mulholland
Dr Peter Elliott at home
Medium

enamel on board

Read label text

Dr Eliott is a gynaecologist and a well-known art collector and benefactor. Henry Mulholland has known him for about 15 years during which time Elliott has collected Mulholland's work. This is the third time that Mulholland has painted his portrait. The second one was selected as a finalist in the 1996 Archibald Prize.

"We share an interest in similar sort of art: Japanese woodcuts, primitive sculptures and we have similar tastes in painting," says Mulholland. "He's a mad collector and his house is full of art. He has travelled widely working and teaching in developing countries which is how he started collecting." Mulholland features Elliott with a glass of wine – "he is also a great wine lover" – surrounded by some of his Polynesian artefacts. In his hand is a wooden carving fertility symbol, which seemed appropriate, given Elliott's profession. " His wife died four years ago and so, like a lot of widowers of his age, he lives in a state of acceptable disorder. I wanted to capture a bit of that without putting too much emphasis on it."

Mulholland has used enamel paint. "It dries more quickly than oil so you can rework the painting quite quickly. I still get that nice full body finish but it allows you to be spontaneous and gestural, which lets me keep it loose. I don't like tight academic paintings. I get the weight and gait of the person through the figure as part of the whole painting rather than through likeness alone. I'm very happy with the painting, it really reflects the way I feel about him." The dark area in the bottom corner of the painting, under the figure, was painted by Mulholland's son. "When you've got a four and-a-half year old in the studio with you, the best way to get something done it to let them paint as well," says Mulholland. "I'd forgotten all about it so I forgot to paint over it but I actually think it works."

Born in Londonderry in Northern Ireland in 1962, Mulholland migrated to Australia in 1973. He studied at the National Art School at East Sydney Technical College. He has had 12 solo exhibitions since 1989, most recently at Rex Irwin Art Dealer in Sydney and the Dickerson Gallery in Melbourne. He was in the group show Twenty Australian Artists exhibited at Queensland Art Gallery and in Venice in 1990 and was represented in the 1993 Moet and Chandon Touring Exhibition. He has been hung in the Archibald Prize on seven previous occasions and in the Salon des Refuses in 1995. Mulholland has a painting in this year's Wynne Prize, his fourth time in the Wynne.