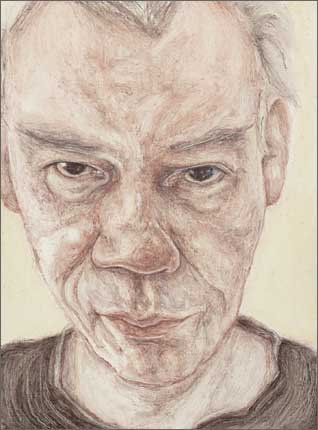 Paul Procèe
PCD 2K03 (from the Faces series)
Medium

oil on copper

Read label text

Paul Procèe's portrait of artist and former gallery owner PCD 2K03 is part of a portraiture series, which he began a couple of years ago and which he plans to continue for as long as he is able. Procee came up with the idea of approaching people on the street, more or less at random, and asking if he could paint their portrait. Eventually he hopes to have a collection of hundreds of Australian faces representing a real cross-section of Australian life. The portraits (miniatures) are painted onto copper plate, which oxidises over time. 'So it is an organic thing. It's a living work and has a lifespan the way people do.'

Aware that people will be reluctant to just follow him to his studio, Procèe offers to take a photograph of them and build up a basic composition in monochrome. Then they need to come to the studio for a sitting. Procèe admits that it has been a real struggle. 'The works are hard to do, very demanding,' he says. 'And people are pretty rude. They assume you're a carpetbagger, which has left me feeling pretty disillusioned.' Of those who agree to the photo, many then don't turn up for the sitting so Procèe has to abandon the portrait. 'Sometimes you think, "what's the point?" but I still like the whole concept so I carry on.' Since Procèe spends a lot of time in cafes, he has been approaching people who frequent them and have seen him around. He has also started to include friends and colleagues.

Procèe has known PCD since the 1980s when he ran a number of alternative Sydney galleries. Among the galleries he has managed are Rondeau, Airspace and The Foundry. He was a co-founder of the Virtual Object group, which exhibited the low tech/high technology show and he curated The Cathedral of the Industrial Trapeze, a large exhibition at The Foundry in Leichhardt.

Born in Utrecht in the Netherlands in 1957, Procèe came to Australia at the age of ten and now lives in Sydney. He has been exhibiting since 1981, both painting and sculpture. He also does portraiture commissions. In 1984 he won the International Hakone Award for Sculpture in Tokyo. After a long sojourn, he recently began to show a variety of works in group shows. He has forthcoming exhibitions in Sydney, the Netherlands and the UK. Wherever he goes, he hopes to conduct similar portraiture projects.