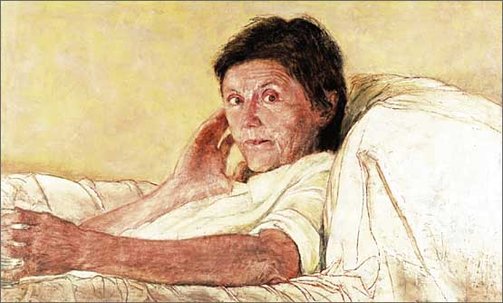 Jenny Sages
True Stories - Helen Garner
Medium

encaustic, oil and pigment on board

Read label text

"It started seven years ago after reading Helen Garner's book True Stories," says Jenny Sages. "I had this longing to paint her and her four sisters for the Archibald. Her answering letter started with, 'Are you crazy? They would never agree.'" Sages' admiration and respect for Garner's writing continued to grow with each new work. Last year she wrote to the Australian writer again, resulting in a meeting in Melbourne where Garner lives. "It was a wonderful encounter," says Sages. "She is as spare and as honest as her work. I wanted so much to acknowledge that in a portrait, but I wanted more than I knew how to do at that stage.

"A year-and-a-half and 37 drawings later, she came to my studio in Sydney and I was able to approach the portrait again. I decided to use encaustic and pigment, the medium I use for my abstract work. I was uncertain how to use it in portraiture. That was a scary trip – the surface is slippery with a life of its own, so I used wax medium and red pigment to lightly put down the essential elements sourced from new drawings. Then, with my heart in my mouth, I dipped my fingers into the wax medium and then into the pigment. Using my fingers as a brush, I just hoped for the best. It only took a week to actually do it, because it was either right or wrong, no fiddling around. Wrong meant scraping the whole thing off with a knife and starting again."

Born in Shanghai, Sages arrived in Australia in 1948. She studied at East Sydney Technical College, the Franklin School of Art in New York, and then with John Olsen. After freelancing as an illustrator for nearly 30 years, she has painted full-time since 1985 and has exhibited her work in numerous solo and group shows. Sages has been a finalist in the Archibald Prize on 11 previous occasions and was Highly Commended in 1995, 2000 and 2001. She has won numerous art prizes including The Portia Geach Memorial Award for portraiture in 1992 and 1994 and the Mosman Art Prize in 1994. She was also Highly Commended in the 1999 Wynne Prize. Her work is represented in many public and private collections including the National Portrait Gallery.