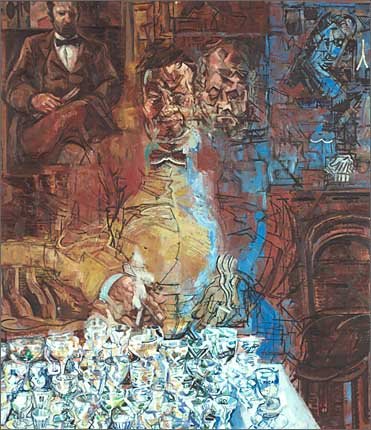 Ian Smith
Ray Hughes having pre-dinner drinks with Ambroise Vollard and Daniel-Henri Kahnweiler
Medium

oil and acrylic on canvas

Read label text

This is the eighth time that Ian Smith has been hung in the Archibald Prize, each time with a portrait of his art dealer, Ray Hughes. 'I've shown with Ray for 30 years and I've known him longer,' says Smith.

Smith has had a lot of aperitifs with Hughes over the years. 'As usual the portrait is about my relationship with Ray,' he says. 'As a painter or viewer you're across the table from him and he's there with his heroes, having a drink with them in his mind.'

Smith says that he has carried the idea of doing a quasi-cubist painting of Hughes around in his head for a while. He could have put a couple of cubist paintings in the background. Instead he chose to feature Ambroise Vollard and Daniel-Henry Kahnweiler, who were art dealers for Cezanne and Picasso. 'Ray really identifies with that era,' says Smith. 'He admires them and has read a lot about them and learned a lot from them. It was a time of undisputed change in art, one of the big bang times, the birth of modernism. I think Ray too is always trying to change things, to reinvent himself and look for the new in art. I think he'd really have liked to have lived in that era – you could smoke in public places in those days too.'

The last time Smith was hung in the Archibald in 2000 he featured Hughes 'getting his just desserts. Ray is very interested in food and drink as much as in art,' he says. 'The glasses in this portrait are a bit like a still life. It's a very ordered portrait for him, it came together well.'

Born in Cairns in 1950, Smith did first-year architecture at the University of Queensland then dropped out and did a Diploma of Art at Prahran College of Art and Design in Melbourne. He painted television sets for Channel 9 then lectured full-time from 1973 to 1979 at the Queensland College of Art. He has painted full-time since 1979 mostly in Brisbane though he also spent seven years in Antwerp, Belgium. He currently lives and paints in Brisbane. He is represented in the Metropolitan Museum of Art in New York, National Gallery of Australia, National Gallery of Victoria, Queensland Art Gallery and numerous regional galleries.