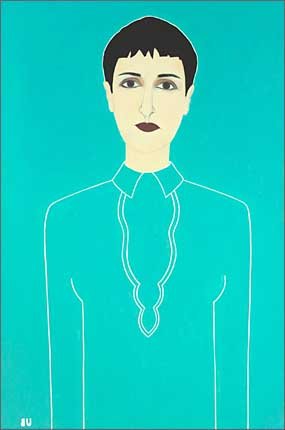 Branca Uzur
Sandra Levy
Medium

oil on canvas

Read label text

Sandra Levy was appointed Director of Television at the ABC in June 2001, rejoining the network with a long and impressive list of production credits including A Difficult Woman, Come in Spinner, True Believers, Police Rescue, Secret Men's Business and GP.

Branca Uzur saw a photograph of Levy in the newspaper "when there was some big noise about the ABC" and was really attracted by her face. Keen to paint her, she approached Levy who saw some of Uzur's paintings and really liked them. "So it was smooth sailing."

Uzur admits she was very surprised to see what Levy looked like in real life. "She has a very sparkly face, very beautiful eyes, very much alive. We did one sitting, chatted and that was it. I was then on my own with my photos and drawings." Asked about the bold colour of the portrait, Uzur says that Levy's face had a very Middle Eastern look for her. "Somehow I saw her in those golden days of Alexandria. I pictured her as a noble woman behind the shutters in some beautiful space in Alexandria – I was listening to [Lawrence Durrell's] The Alexandrian Quartet CDs at that time, which probably has something to do with it."

Born in Zagreb in 1954, Uzur was educated in Zagreb, Belgrade and Helsinki. She has had numerous solo and group exhibitions in Croatia, Finland, Austria, Spain and Cypress. She came to Australia in 1992. She has previously been a finalist in the 2000 Archibald Prize with a portrait of film writer Paul Byrnes and in the 2001 Archibald Prize with a portrait of renowned chef Tetsuya Wakuda.