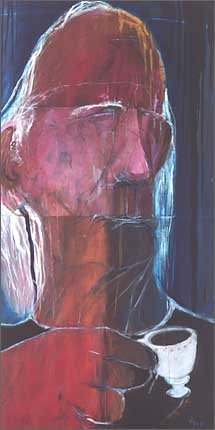 Ilya Volykhine
Coffee with Ken Unsworth
Medium

oil on board

Read label text

Ken Unsworth is one of Australia's leading sculptors. In 1989 he was awarded an Australian Creative Fellowship and the Order of Australia for service to sculpture. In 1998 he had a major retrospective at the Art Gallery of NSW.

Ilya Volykhine met him when Unsworth had work in a show at groundfloorgallery in Balmain, where Volykhine himself exhibits. "He is a very pleasant man and doesn't mind sharing his wisdom with other people," says Volykhine. "And I really love his work. So I ask him if I can paint his portrait and I was blown away when he said yes. And we have become friends." Volykhine did the sittings at Unsworth's studio. "It's a wonderful studio, he has so much stuff in there. The first time I went Ken made a coffee and we sat down and talked about the world. Then I made sketches while he worked. Again, when I came back, he made coffee and we talked about the world."

Volykhine was born in Russia in 1967 and raised there. He has a degree in Mining Engineering. He has been painting since 1991 when he left Russia and went to the USA. He exhibited at The Painting Centre and Academy Arts in New York City and then at the Makawao Arts and Cultural Center in Maui. Volykhine has lived in Sydney since 2000. He has had solo exhibitions at 1 + 2 Artist Studios in Sydney in 2001 and at groundfloorgallery in 2002. He also showed work at Wadi Gallery in Sydney in 2000.