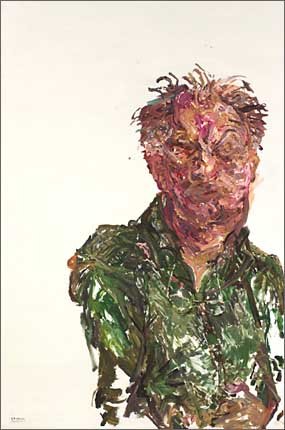 John R Walker
John Wolseley
Medium

archival oil on board

Read label text

English-born artist John Wolseley came to Australia in 1976. He now lives in Leather Arse Gully near Bendigo, Victoria but leads a fairly nomadic existence making countless journeys through the country in an attempt to understand "how the geology contributes to the spirit of the place." He has been described as akin to a 19th-century gentleman naturalistic, embarking on scientific voyages of discovery which inspire his narrative landscape paintings: huge, expansive works that detail the flora, fauna and terrain. As arts writer Janet Hawley once wrote: "His work is as much a poetic mapping of his mind as the land he has meandered."

During 2002, Wolseley was Artist-in-Residence at Sydney Grammar School, during which time he spent many months in the Royal National Park. John Walker has himself "spent years poking around the Royal National Park" and met Wolseley when they both stayed at the youth hostel at Garie Beach. "He's a pretty interesting guy. His father was an artist and he is a direct descendent of Charles Darwin so his interests are there in his ancestry. We share a great interest in deep time. I'm a keen bushwalker and an amateur botanist so we spent many a happy hour discussing plants and evolution and things like that."

Walker doesn't do professional portraiture but paints people he finds particularly interesting or friends. "I asked John if he'd sit for a portrait simply because I enjoy his company." The picture was done quickly, the bulk of it painted in one three-hour session. Then Walker's back went and he was forced to leave it for a while. "If I'd kept going it would have been a different picture," he says. "Having had to stop, when I looked at it again a few hours later, I realised it was complete. It's pretty abstract but I feel that it gets the sense of John really well."

Born in Sydney in 1957, Walker did an Art Diploma at the Alexander Mackie College, Sydney. He has exhibited annually since 1979 with regular solo exhibitions at Utopia Art in Sydney since 1989 and four solo shows at the Austral Gallery in St Louis, USA. His work has been seen in numerous major group shows and is represented in most major public and private collections in Australia. This is his third time as an Archibald finalist. In 2001 he was a finalist in the Archibald, Wynne and Sulman Prizes. Last year he was in the Wynne, Sulman and the Salon des Refuses.