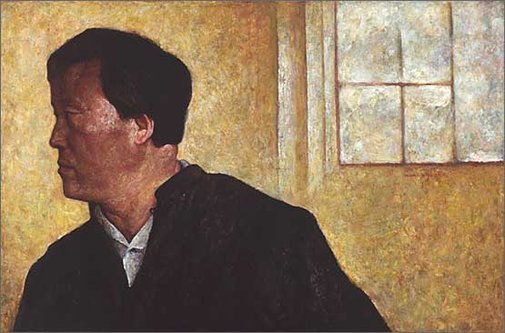 Huihai Xie
Bannerman
Medium

oil on canvas

Read label text

This the second time a portrait of Sydney-based artist Guan Wei has been hung in the Archibald Prize, the first being a portrait by Mathew Lynn in 1998. Born in Beijing in 1957, Wei is descended from Manchu nobility in China in the mid-17th century. His great-grandfather was the Conptroller of the Yihe Yuan, the luxurious Summer Palace constructed for the Dowager Cixi at the end of the 19th century. His great-great aunt was taken into the imperial family and gave birth to Aisin Gioro Puyi, also known as the Xuantong Emperor, the last imperial ruler of China.

Wei graduated from the Department of Fine Arts at Bejing Capital University in 1986. He came to Australia in 1990 after witnessing the tumultuous events at Tiananmen Square. On his arrival, he took up a residency at the Tasmanian School of Art and has since been artist-in-residence at the Museum of Contemporary Art in Sydney (1992–93) and the Canberra School of Art, Australian National Museum (1993–94). During the 1990s, his work drew heavily on the cultural and geographical differences between China and Australia. He has had 25 solo exhibitions and has been included in numerous important group shows. To mark the tenth anniversary of the Tiananmen Square massacre, the Museum of Contemporary Art in Sydney organised an exhibition called Guan Wei: Nesting, of the Art of Idleness 1989–1999.

Hui Hai Xie has known Wei for quite a long time. They met when Wei moved into a suburb close to Ingleburn in Sydney where Xie lives. He was fascinated to learn that Wei was descended from an illustrious Manchu family, which he why he used a yellow background. "The older generation kings of China would dress in yellow and also to decorate their palaces." Xie decided to paint Wei in profile, because most portraits tend to be full-face and he wanted something a little unusual.

"I like to paint people from different angles."

Born in Shanghai in 1957, Xie studied at Jiaotong University in Shanghai, graduating in 1984 with a Master of Arts (painting). He began exhibiting in 1979. He arrived in Australia in 1989, holding his first solo exhibition in Sydney that year. He works as a freelance graphic designer and as a portrait painter. He also paints landscapes. He has been a finalist in the Doug Moran National Portrait Prize on four occasions and was a finalist in the Sporting Portrait Prize at the Art Gallery of NSW in 2000.