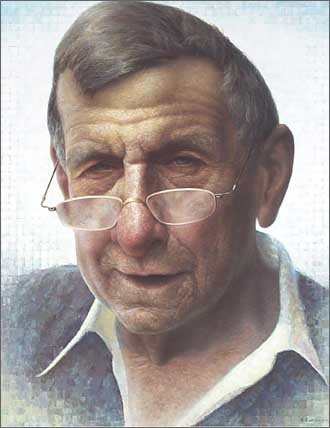 Dalu Zhao
Winner: People's Choice 2003
'Lao Fei' Stephen Fitzgerald
Medium

oil on canvas

Read label text

Professor Stephen FitzGerald is Chairman of The Asia-Australia Institute at the University of NSW. He is also Chairman and Managing Director of FitzGerald Consulting Pty Ltd. Between 1973 and 1976 he was the first Australian Ambassador to the People's Republic of China and from 1974 to 1976 was the Australian Ambassador to the Democratic People's Republic of Korea as well. He speaks fluent Mandarin.

Dalu Zhao was introduced to him recently by a mutual friend, also an artist, as someone whose portrait he might like to paint. Zhao has called the portrait Lao Fei, which is Chinese for "old FitzGerald" – "lao" or "old" being a popular term in Chinese showing friendly respect.

Born in Beijing, China in 1953, Zhao emigrated to Australia in October 2001. He was a Professor at the Capital Normal University in Beijing. His work was seen in the All-China Teachers exhibition in 1987, The Great Wall exhibition in 1988 and the National Art Exhibition in 1992. He has had four solo shows in Rome, the most recent in 2000, and won the Campidolio Oro gold award in 1993 from the International Institute of Cultural Unity of Italy. In June 2001, he was the only Asian-Pacific artist represented in the first Men for Earth exhibition for the United Nations in Rome where he was awarded a silver medal.

This painting is now in the collection of the National Portrait Gallery, Canberra.