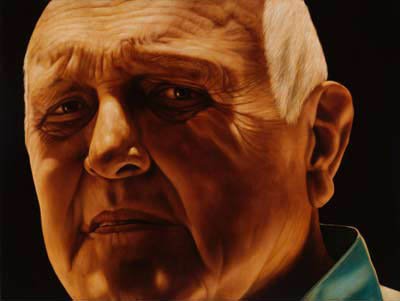 Jason Benjamin
Bread & circuses
Medium

oil on linen

Read label text

Jason Benjamin met revered Australian artist John Olsen around 1997, while exhibiting at the Tim Olsen Gallery, belonging to Olsen's son. What began as profound admiration on Benjamin's part, gradually developed into a friendship between the two artists, independent of the gallery connection. 'He's always been very encouraging,' says Benjamin. 'After an early exhibition he wrote me a really nice letter, basically saying look to Europe and stop worrying so much!'

Benjamin doesn't do preliminary sketches. 'I just go in there and start painting, sort of grasping around in the dark until an idea or sentiment takes shape'. Nor did he have Olsen actually sit for him in the formal sense. 'We sat around chatting whilst I tried to make a few observations and take a couple of photos without getting in the way. To endure in this funny business of making art takes a great deal of dedication, compassion and humility, not to mention a sense of humour. All of these qualities run through his work, it is expansive. My work is reductive, moments that are here one minute and gone the next but contain an essence of something or someone.'

The title refers to a conversation Benjamin and Olsen had a while ago. 'He said to me: "If you want a long career you have to learn a few tricks to stay in the circus. You need breadth so try and explore different media, etchings, watercolour and so forth".' It also refers to his 1989 picture donde voy, says Benjamin. 'Bread represents what is constant, basic, no-nonsense, and underpins us all.'

Born in Melbourne in 1971, Benjamin lives and works in Sydney. From 1989 until 1990 he studied at the Pratt Institute in New York. He has had 18 solo exhibitions since 1992 in Sydney, Perth, Melbourne, London and Hong Kong. He has also been represented in numerous group shows, including Art London 2001 and the 2000 Fleurieu Landscape Prize. In 1997 he won the Kings School Art Prize. This is his first time in the Archibald Prize though he has been hung in the Salon des Refusés twice.