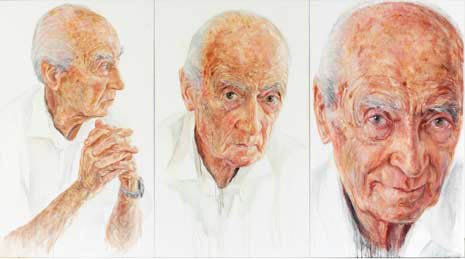 Danelle Bergstrom
Franco Belgiorno-Nettis - 'larger than life'
Medium

oil on linen (3 canvases)

Read label text

Danelle Bergstrom has had Belgiorno-Nettis on her mind as someone she would like to paint for a number of years but she hadn't met him before she commenced this portrait. 'Franco is a man of ideas. He is focused, enthusiastic and warm-hearted, which is what this portrait is about,' she says. 'He is always curious and interested in everything. He has boundless energy and he is constantly on the move. Due to his passion and enthusiasm he has become one of Australia's great achievers and a fervent patron of the arts.'

'Throughout each session, during which Franco would talk openly about himself and his life, discussing thoughts and passions, more of his personality would appear. This, in turn, gave new insight into his life and new life to the canvas.' Over the course of many sketches and drawings, Bergstrom realised that 'the only way I could express Franco was through multiple images. If you read the canvases left to right, it becomes an animated portrait rather than a still life.' Bergstrom used a similar multi-panel approach in her 2003 Archibald-selected portrait of Australian artist Margaret Olley.

Franco Belgiorno-Nettis is the founder and chairman of the Transfield Group. In 1959 his company instituted the Transfield Art Prize and later the Sydney Biennale. Belgiorno-Nettis is a life governor of both the Art Gallery of New South Wales and the Sydney Biennale, and a trustee of the William Dobell Foundation. Bergstrom studied art at the Julian Ashton School of Art and Alexander Mackie College. She has exhibited in solo and group shows since 1980 including the Portia Geach Memorial Award, the Doug Moran Portrait Prize and the Kedumba Drawing Prize as well as the Archibald Prize. She was highly commended by the judges for this Belgiorno-Nettis portrait.