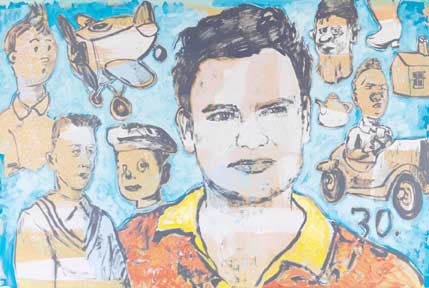 David Bromley
McLean & friends
Medium

acrylic on canvas

Read label text

David Bromley owned several paintings and drawings by McLean Edwards before meeting the artist. 'I'm a great admirer of his work,' says Bromley. Now friends, they both decided to enter the 2004 Archibald Prize. 'McLean said to me, "What happens if I pip you to the post and I get selected and you don't?" And I said, "then the judges are very wise because you're a better painter than me,"' chuckles a modest Bromley. They were both selected.

'I live with McLean's work and I love the characters he conjures up. So I thought to immerse him in those characters was a nice opportunity for narrative – and a nice opportunity for me to paint those figures because they're a joy to have around.' Asked about his choice of colour, Bromley says: 'In some ways there's a slightly macabre, old circus quality about McLean's work that I sometimes see in blurry greys. He'll put out the candy pink and yet you don't necessarily think of the colour. He's such a brave painter. He grabs colours and puts them on but there's also a classical quality to his work, he defies categorisation … I used colours and then put a wash over him to bring him forward and push the other characters back.'

Born in England in 1960, Bromley arrived in Australia in 1964. He lives and works in Adelaide and since 1987 has exhibited regularly in Sydney, Brisbane, Melbourne, London, Johannesburg and Tokyo. He won the Fisher's Ghost Festival Art Prize in 1993 and was a finalist in the Moet & Chandon Touring Exhibition in 1993 and 1994. He was selected in the 2000 Doug Moran National Portrait Prize and the 2000 Sporting Portrait Prize. This is his fourth time in the Archibald. His work is held in the collections of the Art Gallery of South Australia, the National Gallery of Victoria and the Art Gallery of Western Australia among others.