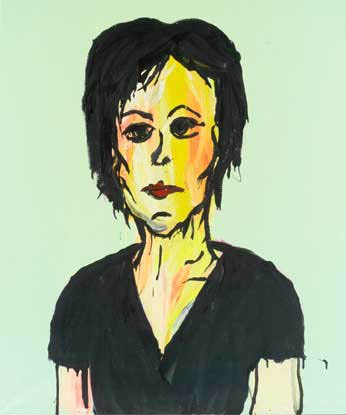 Adam Cullen
Margaret Throsby
Medium

acrylic on canvas

Read label text

Adam Cullen has known Margaret Throsby for some years, having met her through mutual friends, and has always wanted to paint her 'because she's known as a voice. That intrigued me because everybody knows her as a voice while I could put her onto canvas as a person.'
Throsby is one of Australia's most popular radio presenters. She has worked in radio and television for 37 years and is currently the presenter of the morning show on ABC Classic FM.

Throsby did a couple of brief sittings for Cullen – 'which was all I really needed,' he says. 'She has an interesting face and she's very accommodating.' In Cullen's portrait she is quite a dark, bold presence. 'She has a sort of darkness about her, which I find attractive and a strength about her, an almost spooky kind of strength,' he says. 'When you're talking to her it's almost as if you're listening to the radio. I was really aware of her voice emanating from her body, resonating.'

As for the background, Cullen says he chose 'a fairly electric kind of colour because she's involved in the media.' He chose not to put in a specific setting or space 'because you experience her through another medium. She occupies her own space, which is not a physical one.'

Born in Sydney in 1965, Cullen lives in Wentworth Falls in the Blue Mountains. He has had annual solo exhibitions at Yuill/Crowley in Sydney for the past 11 years and has shown in numerous group shows including Bittersweet at the Art Gallery of New South Wales in 2002 and Perspecta in 1993 and 1999. He was represented in the São Paulo Biennale of Contemporary Art in Brazil in 2002. His work is held in major public and private collections around Australia including all the state galleries and numerous regional galleries, while his work has been published in newspapers and art journals here and overseas. This is his 7th consecutive time as an Archibald finalist. He won the Archibald Prize in 2002 with his portrait of actor David Wenham and was runner-up in 1999 with his portrait of actor Max Cullen.