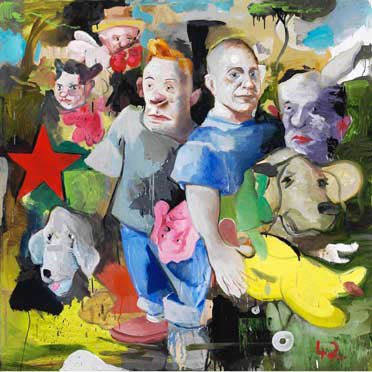 McLean Edwards
Martin Browne art dealer
Medium

oil on canvas

Read label text

This is the first time McLean Edwards has been represented in the Archibald Prize and he makes two appearances: as artist and as the subject of David Bromley's portrait. For years, Edwards avoided the Archibald believing it was for 'old fogeys and young fogeys. Adam Cullen told me to enter. He said to me, 'how can you expect it to change if younger artists don't enter?' Bromley also got into his ear as did his art dealer Martin Browne. 'It was like the father, son and holy ghost urging me to enter,' says Edwards chuckling.

Edwards met Browne about eight years ago when he walked into his gallery off the street and they got talking. Four years ago, Browne invited Edwards to join his stable of artists.
Edwards admits candidly that he had planned to paint journalist Mike Carlton but when Carlton wanted him to go to the radio studio at five in the morning, Edwards had second thoughts. 'I went for the easier option!'

The portrait had a bit of a convoluted development. The first version Browne liked but Edwards didn't. Browne complained that the next one made him look like Danny de Vito. 'I was a bit stumped,' says Edwards. 'I got a fresh canvas and said, 'I'll give it one more go, otherwise I'm abandoning it.'

Edwards asked Browne what he was thinking about and he said, he was thinking about his dogs at his property in Vanuatu and how much he was missing them. So Edwards decided to include them. 'They're handsome, fine animals,' he says. 'They deserve a portrait of their own.' The red star is a reference to the fact that Browne's partner is Russian. And there are various symbolic elements, the angel and the devil, for example. Two sides of Browne perhaps?
Born in Darwin in 1972, Edwards' father was a diplomat so the family travelled a lot.

Edwards moved to Sydney in 1991. He exhibited with the Legge Gallery for 10 years before joining Martin Browne. He has had over 20 solo shows and been part of numerous group shows including the Sulman Prize in 2001.