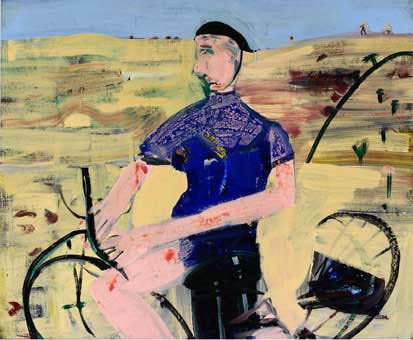 Joe Furlonger
Peter Hallinan, Tribal arts dealer (retired) & mountain bike racer
Medium

acrylic on linen

Read label text

Joe Furlonger has been represented in the Archibald Prize on seven previous occasions since 1987 and five of those were self-portraits. As he has said in the past, 'I need to feel really, really familiar with a subject before I do a portrait because although I admire portraiture as an enduring genre, I have a problem with it. There are so many different ways of approaching the subject and the environment. One day, maybe I'll confront it and start pouring out portraits of other people!'

This is Furlonger's eighth selection for the Archibald Prize. In 1987 Furlogner painted chef/restaurateur Tony Bilson, and in 1996, medical dermatologist Dr Harold Schenberg. 'While living on the Gold Coast for 10 years, a place not noted for museum-quality work, I was fortunate to meet Peter Hallinan, one of the great tribal art dealers and authorities and for those years was able to view, visit and contemplate one of the great tribal art collections,' says Furlonger. 'He helped build my tribal art collection and, more importantly, my understanding.'

Born in Cairns in 1952, Furlonger is a painter and printmaker. He studied at the Queensland College of Arts and the Alexander Mackie College of Advanced Education. He has had 14 solo exhibitions at Ray Hughes Gallery since 1985 and has been hung in numerous group shows including the Archibald, Wynne and Sulman, the latter on 14 occasions. Awarded the Moet & Chandon Fellowship in 1988, he spent a year in Epernay, France. In 2002 he won the Fleurieu Landscape Art Prize. Furlonger's work is represented in public and private collections around Australia.