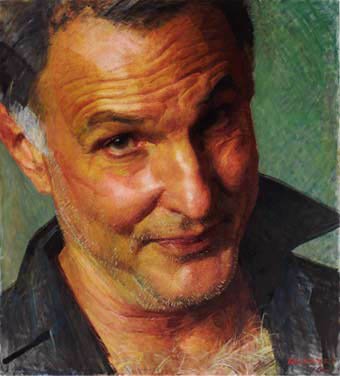 Robert Hannaford
Self-portrait
Medium

oil on canvas

Read label text

Robert Hannaford was working in his studio one day when he happened to catch a glimpse of himself in the mirror. The way his right eye was cropped struck him as an interesting idea compositionally and was the impetus for this portrait, which he worked on for a year. It was not painted specifically for the Archibald Prize, says the artist, who has painted a number of self portraits over the years.

Hannaford never uses photographs, always painting his portraits from life. For this self portrait he used a mirror. 'This was painted in quite a small room so it was a difficult task,' he says. 'It was hard to get the proportions right – and I'm not sure that I have. That disparity from a small mirror to a large canvas was very difficult to handle.'
The somewhat cheeky expression came later. In fact, Hannaford had been working on the portrait for six months before he decided to jettison the serious expression for something more light-hearted. 'I was raising my eyebrows from time to time as I worked and I decided that worked better aesthetically,' he says. 'I liked the angles of the smile and the raised eyebrows so after six months' work I changed the expression.'

Born in 1944, Hannaford lives and works in Riverton, SA. A largely self-taught artist, he is acclaimed for his portraits but also paints landscapes and nudes, and is a sculptor. His sculpture of Sir Donald Bradman stands outside the Adelaide Oval. He won the Doug Moran Portrait Prize in 1990, the Fleurieu Landscape Prize in 1997 and the Archibald People's Choice Prize in 1991, 1996 and 1998. This is the 14th time he has been an Archibald finalist.