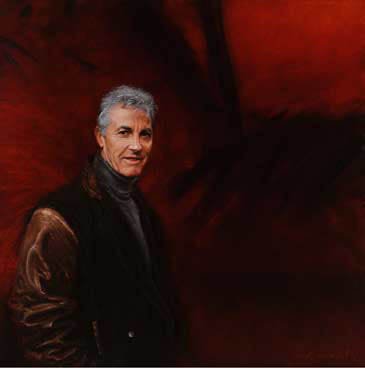 Peter Clifton Kendall
Peter Brock
Medium

oil on canvas

Read label text

Peter Brock is a motor racing legend. During a 30-year career he has set numerous records. He has had ten wins at Bathurst (his favourite racetrack), has won the Sandown Endurance Classic nine times, and bagged three Touring Car Championships. Along the way, he has built up a great rapport with fans – who nicknamed him Brocky or Peter Perfect – and sponsors.

Peter Kendall is a well-known portrait artist based in Perth. A private art collector who has a number of his works rang him one day and asked if he had decided who he was going to paint for the Archibald Prize. Kendall said he hadn't thought about it. 'Do you want to paint Brocky?' came the reply. Kendall admits that his first thought was 'a petrol head – because I don't know anything about cars.' Yet as soon as they met, they clicked and from that moment everything fell into place.

Kendall did three or four small portraits of Brock then a whole series of sketches and some photos. He played with several concepts then suddenly the idea for this portrait just appeared. 'I do conceptual and abstract art as well as portraits and for the first time the two things came together. I didn't plan it; his personality demanded it. The picture needed power and energy in it. It's a running joke that I use a lot of red but there was no analytical approach, it was just that it suited his nature and his presence. It just demanded the red and that big black stroke. There is not one drop of paint on that portrait I'm not proud of,' says Kendall.

Born in Albury NSW in 1949, Kendall moved to Perth 22 years ago. He has had 13 solo shows since 1978, has exhibited in numerous group exhibitions, and won many art prizes. He has been commissioned to paint more than 100 private, sporting and corporate portraits and in 2001 was selected for the Salon des Refusés. He has also written 13 children's books and regularly visits schools to deliver motivational talks to children to boost self-esteem.