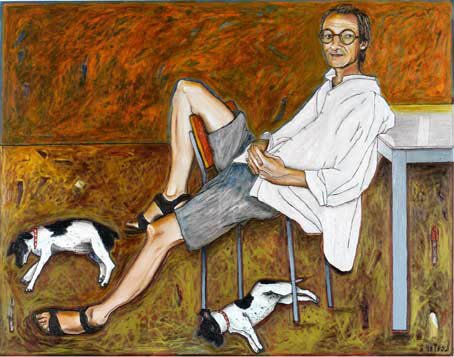 Kerrie Lester
Garry Shead, Freckles and Max
Medium

oil and hand-stitching on canvas

Read label text

Last year Kerrie Lester took a break from the Archibald Prize, having been selected for 14 consecutive years. She has twice been highly commended but has never actually won, hence her 1998 Archibald entry Self-portrait as a bridesmaid.

But Lester is back with a portrait of fellow artist Garry Shead. 'I've known him for a long time and it's always easier to paint someone you know,' she says. 'I love his paintings and I love his long lanky frame. You could paint him long-wise but I decided to do it crossways in a bit of an ambiguous pose. He's leaning backwards in the chair, looking relaxed and yet he looks like he's going to spring out of the chair at any minute – and the dogs look as if they're ready if he moves.'

Shead lives in Bundeena in the national park, so Lester spent time with him there. The dogs, who belong to Shead, were always around. 'The dogs are so much part of the pose,' says Lester. 'They make it look more relaxed – and yet he's not relaxed and nor are they.'

Lester admits that this particular portrait didn't come as easily as others, despite knowing Shead so well. 'I repainted it about seven times. In fact, it was really hard.'

Born in Sydney in 1953, Lester studied at the National Art School and the Alexander Mackie College. She has had annual solo exhibitions since 1976 and has been part of numerous group shows including the Sulman Prize (four times) and the Wynne Prize (six times). She has had portraits in the Portia Geach Memorial Award on six occasions.