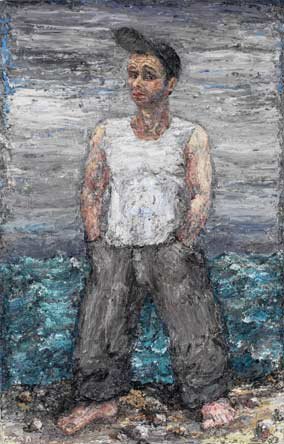 Paul Ryan
Self-portrait, Bulli Beach
Medium

oil on board

Read label text

Paul Ryan has done a couple of self-portraits before, 'but nothing major'. So when the person he was going to paint for the Archibald fell through, he decided he was the best option.

'Last year half of the paintings I did were of the landscape where I live [Thirroul] so that just felt natural,' says Ryan. 'And I spend a lot of time at the beach. The ocean often has that dark, dirty green colour. The mountains are close so there's a darkness to this area and I played that up a bit. Also the sky changed quite a bit when I was painting.'

Ryan believes this is his best portrait to date. 'Painting yourself you have complete licence to make yourself as ugly or as ridiculous as you like. You can really play on your inadequacies and I enjoyed that aspect of it.' The portrait took a month. Ryan set up a mirror in his studio, which he had to move down onto the ground to get his 'great slabs of feet' right, and used photographs as well. He agrees it took 'a heck of a lot of oil. At the time our finances were getting low so it was pretty foolhardy to use $500 worth of oil paint when you're struggling, but that's the madness of the Archibald.'

Born in Auckland in 1964, Ryan went to school in Australia, New Zealand, America and England. He studied creative arts at the University of Wollongong and has had annual solo exhibitions since 1987. He won the Faber-Castell Drawing Prize in 1987 and the Thirroul Art Prize in 2002. He has also been represented in the Blake, Dobell and Sulman prizes. Last year he was selected in the Mosman Prize and was a finalist in Art on the Rocks. Ryan has been selected for the Archibald twice before – in 2002 with a portrait of Richard Tognetti, violinist and artistic director of the Australian Chamber Orchestra, and in 1993 with a portrait of actor Chris Haywood. He has also been hung twice in the Salon des Refusés.